Nederlands Scheepvaart Museum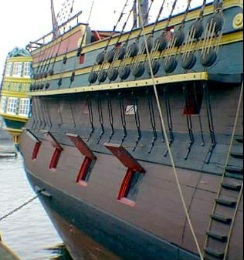 If you like ships and boats this museum is a must.  So much of Holland's history and glory happened thanks to overseas commerce.  See the ships that carried the spices and riches of the orient to Europe for five hundred years.  This museum contains the largest collection of boats in the world! The musuem's layout is arragned chronologically and the boats, models, ancient maps and navagational aids are wonderful.

Location:
Kattenburgerplein 1
1018 KK Amsterdam
Phone: 020 523-2222
Fax: 020 523-2213

Hours:
Tuesday thru Saturday 10 am - 5 pm
Sunday and Holidays 12 am - 5 pm
In the summer it's also open on Monday from 10am - 5pm.

Museum Website

Note: The Netherlands Maritime Museum takes a fascinating look back at 500 years of Dutch seafaring history.

0 comments below
The comments are owned by the poster. We aren't responsible for their content.

Page Generation: 0.04 Seconds