Dutch Canals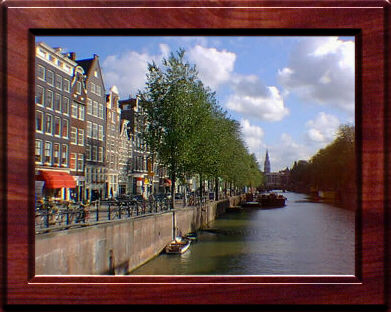 You can go anywhere in Holland, and never be far from a canal.  These waterways are as beautiful as they are practical.  Holland canals serve a number of very important purposes.  First they were used to drain the land so homes and farms could be established where once there was water.
Second they provide a means of transport for goods from inland regions to the sea.  Third they are homesteads for thousands who live on houseboats.  Houseboats are very trendy and can be seen on most canals in Amsterdam.  Some are available for rent, however they have become very expensive due to their popularity.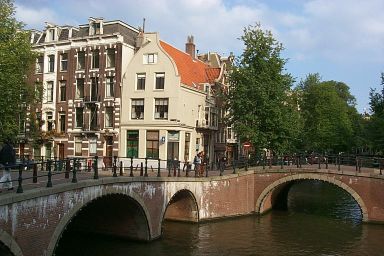 Next, the canals are used for recreation (boating) and for parades.  One of the most popular canal parades is Amsterdam's Gay Pride parade that attracts more than 100,000 spectators straining to see nearly naked men cavorting on gaily decorated floats.  A must do if you're in town!
Last, the Dutch canals act as sewers for many houseboats, getting flushed out at regular intervals.  But for most people they are part of the Dutch landscape and a beautiful example of human ingenuity and a great conductor of feng shui (wind & water).
Amsterdam's canals have another bonus, hundreds of bridges! Spanning the centuries as well as the canals, bridges provide a glimpse into Amsterdam's past, and make wonderful observation points for photographing the city or just watching the boats go by. At night many are lit up and make a beautiful circular reflection in the water below.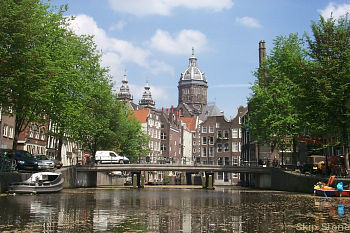 In many Dutch cities most of the canals have been filled and something essential has been lost.  Amsterdam is famous for it's canals which ring the city like ripples on a pond.  When the winters are very cold, the canals freeze and the Dutch take out their ice skates and traverse the canals just like Hans Brinker. When finished they will stop at a place called 'Koek en Zopie' where they'll either drink hot chocolate or eat 'Snert' (green pea soup). In fact the famous Elfstedentocht (Eleven Cities' Tour) in Friesland (far north of Holland) attracts tens of thousands of Dutch men and women who brave the cold to skate 200 kilometers, starting and finishing in Leeuwarden.  For more info on this event go to this Elfstedentocht site. Unfortunately due to global warming, the canals rarely freeze in Holland anymore!
But don't mistake a canal for a pool.  Especially in the cities.  Canals are dirty and the water might be toxic.  Unless you see the Dutch happily swimming in the water, (wherever) don't even think about it.  Barges regularly clean out debris from the canals in Amsterdam, including shopping carts and LOTS of bicycles.

Note: Picturesque, practical and perfect for parades and parties, Amsterdam's canals have many uses.

0 comments below
The comments are owned by the poster. We aren't responsible for their content.

Page Generation: 0.03 Seconds