Cannabis College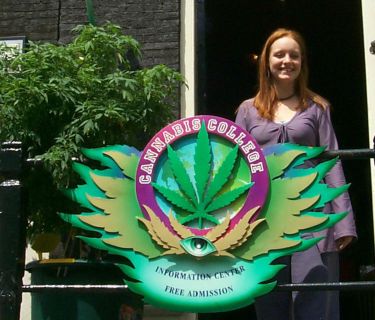 The Cannabis College, on the Oudezijdes Achterburghwal, in Amsterdam's Red Light District, is a clearing house and archive of accurate cannabis related information. Focusing on the thousands of uses of cannabis (besides recreation), the volunteers here are extremely knowledgeable about all aspects of this amazing plant. There are displays with hundreds of samples of cannabis related products including clothes, cosmetics, food, and much more. There are two electronically controlled vaporizers for you to try this healthier method of cannabis ingestion.
Downstairs there's a working indoor marijuana garden, complete with growers on hand to answer your growing related questions. There is a €2.50 donation to view the garden, otherwise the rest of the College is free to browse. We encourage all who visit to donate something to this worthy cause.

Note: Curious about cannabis? Want to learn more about hemp products? Need some marijuana growing tips? The friendly staff at the Cannabis College are ready to answer all your cannabis questions.

0 comments below
The comments are owned by the poster. We aren't responsible for their content.

Page Generation: 0.03 Seconds