The Rough Guide Prague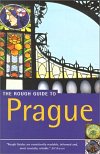 The Rough Guide Prague
by Rob Humphreys

The Rough Guide provides all the practical information a budget traveler needs to navigate the streets and cultural landscape of Prague. Great for anyone seeking the alternative side of the city.

0 comments below
The comments are owned by the poster. We aren't responsible for their content.

Page Generation: 0.03 Seconds