Vietnam: Day 6 (Mekong Delta) Part 1
Today we woke up painfully early and bought Vietnam's famous deadly sweet iced coffees. We made that same dangerous commute to District 1 and got on a tour bus with mostly upper class Vietnamese and a few white backpackers.

The tour guide was a chainsmoking old Vietnamese man who looked like the Eastern equivalent of a used car salesman. He had sunken blue eyes and long hair with a receding hairline. He seemed like he should've been wearing a double breasted blue silk blazer and shiny gold cuff-links. He spoke broken English, which was comprehensible, but one had to pay very close attention and concentrate in order to follow his monologue through its web of repetitions and incorrect pronoun usage. My attention promptly faded and I started to read Hunter S. Thompson's The Rum Diaries, which I had bought duty free at Frankfurt airport.
Hunter S. basically tells a simple story of semi-fictional drunken journalists savagely beating each in Peurto Rico around a half century ago. The imagery of beautiful beaches and lots of cheap booze reminded me of my current situation, particularly of Phu Cuoq, an island, like Peurto Rico in the sixties, yet undevelopped, but soon to become a horribly spoiled tourist destination full of fat, drunken Americans (The current Americans are interesting, conversational backpackers mostly -- but still drunken, of course).

I read for an hour or so and drifted off. Most of the book was simulacrum and tedious. Although I always enjoy Thompson's ability to describe a situation's feel perfectly, I was slightly disappointed in this book after reading some of his more eventful novels. Eventually I woke up in a completely different atmosphere. Freezing cold from the bus' excessive air-conditioning, I stepped out into the powerful heat and humidity of the Mekong Delta. Motorized vehicles are a rather new introduction to Vietnam and, unlike the urban centers like Saigon, rural areas are filled with a much more benign traffic of bicycles, instead of an infinite school of motor scooters.

The fast-talking tourguide quickly brought us onto a long and skinny boat with folding chairs set up along the sides. The boats of the Mekong Delta are long and skinny, just like the houses of inner Saigon are tall and skinny. I noticed that every province of Vietnam has its own style of boat. Phu Cuoqs infinite fishing boats are more banana-shaped, while Mekong riverboats are shaped more like long beans, floating low in the water, all of them with identical red faces with two eyes and an anchor painted on the bow. The tour boats are the longest and skinniest of them all, with a huge bamboo canopy covering us from the blazing sun. I chose to sit on the railing in the stern, feeling cool and nautical.

As soon as the boat left its mooring, the overpowering heat of the region was replaced by a comfortable cool breeze. I suddenly understood why so many people choose to live on the water in vietnam. Its simply more bearable and certainly more efficient when ninety per cent of your day's work takes place on the riverfront. After watching Apocalypse Now, I had been expecting more of a dense, sparsely populated jungle along the edges of the river, but what I found, instead, was thousands of buildings along the riverbed on stilts and thousands more boats, all with a similar design, two eyes painted on the bow and all being actively put to work, being used to their fullest extent. It was refreshing to see so many boats being used for actual labour, being put to a real and important use, as opposed to being full of rich folks in polos drinking scotch. The hard-working Vietnamese wearing their conical hats are practically as far as you can get from that.

We travelled along the river to various shops and small factories where they make the equivalent of rice crispies and rice floar and the like. They tried to sell us all sorts of potions and snake oils -- and I'm not just using the expression. They were actually peddling snake oil, in little bottles. It's supposed to improve virility or something.

Eventually we got back on the boat and headed down the river through the intricate delta -- a system of small rivers, crowded with traffic of boats. The delta's rivers seem to be arranged much like the streets of Saigon, with crowded major arteries, lined with storefronts and working buildings, and many small alleys, or streams, leading to the residential areas. I was taken aback by the noise of the boats. They all seem to run on these outboard motors, which look much like glorified weed-whackers and make a sound like a powerful machine gun or a small helicopter -- which only added to the historical feel of the area.

We were brought to the vast "floating market," which was not like the fishing and aquaculture rafts of Phu Cuoq (which is what I expected), but more like hundreds of boats tied together with people bargaining between them and exchanging everything from chickens to watermelons and bonsai trees. It is just like any busy city, but on water. It is not, however, like Venice. It is much more functional and much less orderly. Our boat loudly and steadily pushed its way along the river, towards a sort of a bay, where we turned off and stopped at a restaurant where we ate our lunch. There were extremely tidy trimmed -- or "clipped," if you will -- hedges, which made me set my mind towards the good ol' internet. There was a circular path around a pond with arches of hedges and hedges shaped like dragons. I walked around that circle many times, wishing I had some LSD. It would be the only possible way to truly enjoy an otherwise horrifying timeloop.

Back at the restaurant we sat with a man apparently named Bruce, from Korea and exchanged the usual traveler's conversation and had a few Beers. This time I tried 333, which is a cheap beer, mostly in Vietnam and Australia. Quite good for the equivalent of $0.75 USD or so. Eventually we were brought a beautifully presented and huge fish and had yet another fine meal. Over the week or so I've been in the country, I haven't yet had one disappointing meal. And that includes breakfast, brunch, lunch, linner (or dunch) and dinner, etc. I've been eating voraciously since I got here. Never have I had so much great sea food in my life.

After lunch I walked around a little and found myself in the most complete and beautiful bonsai garden I have ever seen. It even beat any of the botanical gardens I have visited. I remembered that I'd bought a few books on bonsai growing (and a few fun bonsai growing compounds, to boot
) a few years back and I was inspired to restart that plan when I arrive home.

Eventually we got back on the boat and travelled further down the river. It feels truly foreign, but the wind blowing in my hair made that foreignness supremely comfortable. There were massive rafts with cranes on them all around and local fish-farming aquaculture nets. I felt completely at ease with my surroundings and I was content. I resisted the urge to be a tourist and snap thousands of quick, digital photos, but eventually I caved in. I felt like I was passing by a hard drive's worth of perfect snap-shots; women in traditional Vietnamese hats standing knee deep in the river fishing, rice paddies, palm trees, jungle and houses on stilts covered in hanging bonsai.

We continued up the river,momentarily traveling through a more Apocalypse Now-esque section of the river, where I could truly get a feel for the movie any sized screen or special rendering, re-re-re-released directors cut special edition never could. It was reality and there is no substitute for reality. No picture I snapped today could do the Mekong Delta justice.

We kept going down the river, passed infinite long, skinny boats, aquatic alleyways and houses on stilts, with boat-people waving and smiling at us, for around four hours. We eventually reached another, much larger town, where our bus awaited. We had around a half an hour to wander. I was drenched in sweat and felt as if I was dying of thirst. All I wanted was to find shade and a cold drink. I searched for momentary shelter from the direct sunlight and stood under a tree, where I was confronted by what I thought to be a grotesquely masked man, handing out flyers. I did a double take and, horrified, realized it was the poor man's face. He had some sort of horrible deformity; A massive benign tumor, much like those of elephant man disease. The tumor covered his whole face and his chin was swollen to probably more than three times its normal size. It looked as if it weighed down his whole head and his normal-sized neck could hardly bare its burden. It looked almost comical in some sort of terribly cruel way and I felt truly sorry for the man. I noticed some tourists snapping photos and felt a flood of rage at their cruelty. What could make such a terrible fate worse than to be ridiculed, photographed and exploited for pamphlet distribution?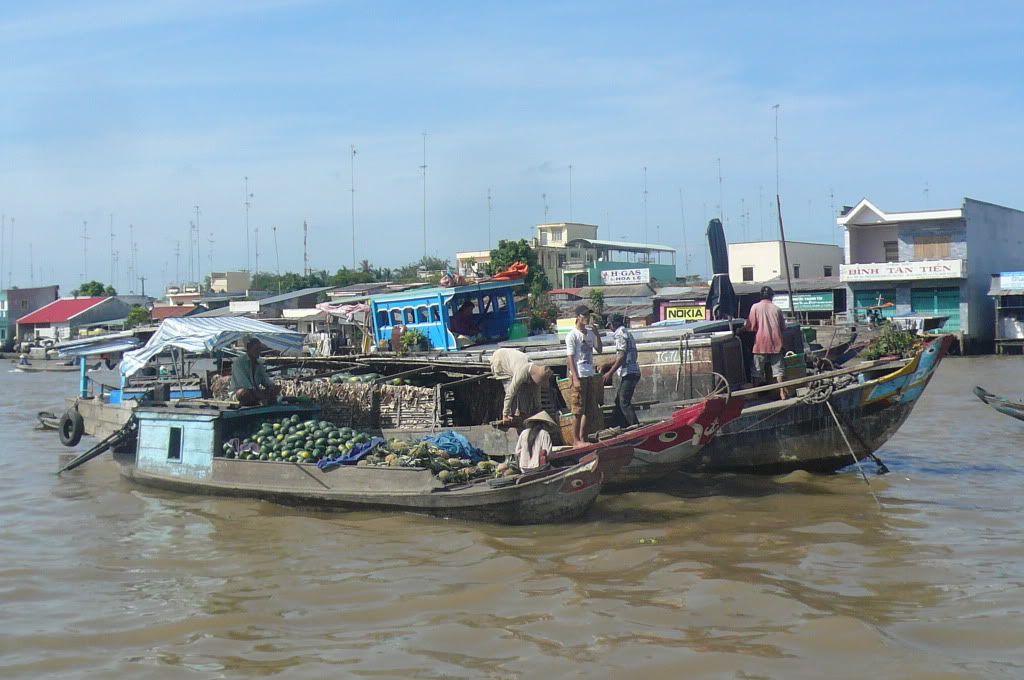 -My entry was too long, follow through with Part 2!
-Peace and Love

0 comments below
The comments are owned by the poster. We aren't responsible for their content.

Page Generation: 0.04 Seconds