Where to Shop for Food
Amsterdam has a fine selection of wine, since they import it from all over Europe including France, Italy, Germany, Spain, Hungary, etc.  House wines in restaurants are usually good accompaniment to the cuisine, and much cheaper than a vintage.  There are many wine shops in Holland and the selection and prices are very good.  If you're used to paying high prices for French wine, you're in for a treat.  Thanks to the E.U. there's no import duties added, so a fine Bordeaux can be had for under €5!  We find the Gall and Gall shops to have a decent selection, but their wines are somewhat overpriced, and recommend you look elsewhere for your alcohol needs.  I prefer to take a trip to France and stock up there where the selection and prices are unbeatable!

For general food shopping the Albert Heijn chain of supermarkets has an excellent selection, including many organic (biologisch) produce and vegetarian foods.  They're a bit more expensive than the other markets in town, like Dirk van den Broek.  The A&P supermarkets have a better selection of products that Americans and English might be missing in Holland.

For health food there's a chain of stores called De Natuurwinkel with shops around town.  Organic produce can also be found in small markets, like the one on the Jodenbreestraat.

For personal care products like shampoos, vitamins, and non-prescription items, try Etos or Kruidvat (good prices).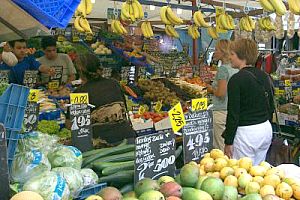 The Albert Cuypmarkt
The Albert Cuypmarkt is the best place to shop for fresh produce, cheese, nuts, fish and much more.  It's a four block stretch of stalls that have the best deals in town on food and toiletries.  It's open from 9am to 5pm Monday thru Saturday.  There are several other local outdoor markets around town including an the Borenmarkt, an organic food market on Saturday around the Noorderkerk in the Jordaan (9am-5pm).

When we first came to Amsterdam it was nearly impossible to find a decent bagel.  Fortunately the bagel craze that swept across American finally reached Amsterdam, and today there are many bagel shops offering sandwiches.  The best deal on bagels is at Bagels and Beans on the Ferdinand Bolstraat near the Albert Cuypmarkt.  You can buy them for a little more than a guilder apiece.  That's half what other places charge, and they're a decent size and you can ask for unbaked ones, and bake them yourself!  However the bagels offered by Gary's Muffins are bigger, tastier and cost just a bit more.

For pastries we recommend Rene's Croissanterie on the Damstraat just east of the Dam Square.  They have donuts, apple turnovers (appelflap), brownies, cookies and cakes, and everything is very fresh.  DeWaal Bakery on the Damrak specializes in breads from around the world.

Now if you can find someone with a Makro card you can shop in their huge wholesale warehouse (like Costco).  You'll get great deals on bulk food items and they have an entire department store too.  Like Costco, most of their stock is of higher quality than other chain stores.

If you have a car you can also venture further east to the A&P megastore (formerly Maxis), where you can likewise get discounted bulk items, but there's no membership requirement.
In the evening when the day markets have closed, you can still buy food and drink at neighborhood grocery stores called avondwinkels (night stores).  They stock the necessities and usually a few gourmet items, sort of like a 7-11.  

Note: Amsterdam has a great selection of markets specializing in fresh produce and ingredients from around the world. Check out our tips on where to go to find things like organic food and the best bagels in town!
Where to Shop for Food
0 comments below
The comments are owned by the poster. We aren't responsible for their content.

Page Generation: 0.02 Seconds