Amsterdam's Cafes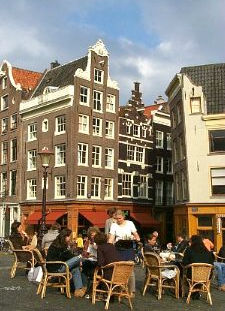 The Cafe scene in Amsterdam is the primary social milieu for meeting friends.  Apartments are so small that most gatherings are held in a favorite cafe.  In the summer, everyone sits outside especially when the weather is fine.  Cafes attract a very diverse crowd depending upon the location, the food, and the ambience.  Brown cafes have a regular crowd of older locals.  Other cafes have a more trendy menu attracting a younger group.  Coffeeshops attract mostly tourists by selling marijuana and hashish.  No matter what your tastes, you'll find numerous cafes that'll interest you.  The locale, the music, the crowd, and the food all contribute to the ambiance, making each cafe a unique experience.  Few cities in the world can match Amsterdam's cafe scene.

Note: Most of Amsterdam's social life takes place in cafes and coffeeshops that serve up food, drink, music and even marijuana. You're sure to find a favorite place to toast your friends and life itself!
Amsterdam's Cafes
0 comments below
The comments are owned by the poster. We aren't responsible for their content.

Page Generation: 0.03 Seconds