Fast Food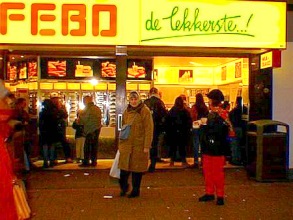 Just like the old Horn and Hardart automats in New York, at the Febo, food is placed in little self-serve compartments.  Good for fresh patat frites (french fries), but you're taking your chances with anything else.  Another popular fast food chain in Amsterdam is New York City Pizza.  With a variety of toppings they're OK for a fast snack, but be wary in off hours, sometimes the pizza can sit around for hours, and they have to reheat it which hardly adds to the flavor. 

If you have the time, it's far better to get a really good pizza at an Italian restaurant for around $5-$7.  The most popular fast food is pomme frites, or what we call french fries.  This is the cheapest, freshest, fast food around and it's usually excellent.  They offer a variety of sauces to put on it, including mayonaise, curry and ketchup.  However the best are the Belgian type which are usually bigger with even more sauces available.  These shops are few and usually have long lines. 

Another good inexpensive meal is at any of the Sworma or Falafel places.  Vegetarians can fill up on Falafel, salads, hummous and more while the meat eaters pig out on lamb.  The Dutch will often snack on broodjes, sandwiches on rolls with cheese, meat, fish or salad.  They don't quite measure up to american sandwiches (we put lots more stuff on ours), but they're good in a pinch.

Note: Hungry and in a hurry? Here's some suggestions of where you might find some choice edibles, and places to avoid!
Fast Food
0 comments below
The comments are owned by the poster. We aren't responsible for their content.

Page Generation: 0.04 Seconds