Amsterdam's Restaurant Scene
Dining in Amsterdam can range from fast food to world class cuisine. Dutch food tends to be very hardy but heavy and unimaginitive, relying upon meats, fish, foul and starches for main courses.  Ethnic cuisine is much more varied, and centuries of immigrants have added their flavors to the available palate.  Foremost among these is Indonesian Food, with the rice table a most elegant affair (photo).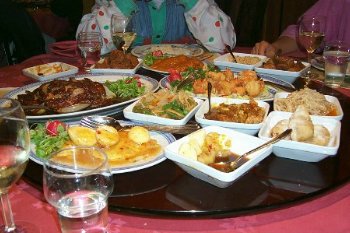 There are countless Indonesian restaurants in town serving up Gado Gado, satay, spicy sambals, crispy krupek, nasi goreng, etc.  This is a real treat since only Indonesia has more authentic restaurants.  You'll find lots of Chinese restaurants in town, but be wary.  If you're used to real Chinese food or even Americanized Chinese, you might be disappointed because this is Chinese food, Indonesian style.  Many people of Chinese decent have emigrated from Indonesia to Holland bringing their style of cooking.  Fortunately there are a few real Chinese restaurants in Amsterdam.  These are clustered in the Red Light District in Amsterdam's Chinatown.  You can spot these restaurants since they have cooked ducks hanging in the windows. Our favorite Chinese/Indonesian restaurant is the Oriental City (see photo), a two story restaurant with good views on the Oudezijdsvoorburgwal.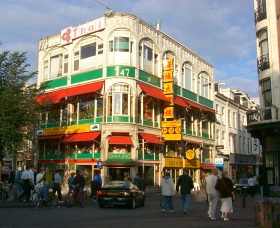 Other European, South American, and Asian cuisine are well represented in Holland.  Most popular of course is Italian food.  Thanks to the Dutch fondness for cheese, Italian food is extra tasty in Holland.  Rich lasagna, a endless variety of pizzas, and all the other specialties are available and relatively inexpensive compared with other cuisines in Holland.
There are some very good Thai restaurants in Amsterdam.  We found one excellent one in the Jordaan which serves very authentic Thai dishes for very reasonable prices. It's Pathum Thai at Willemstraat 16.  Other Thai restaurants seem more expensive.  Another very interesting Thai restaurant in the Red Light District is the Bangkok just off the Damstraat at Oudezijdesacherburghwal, which has good food (see photo), and a very lively bar scene.  The waitresses and bartenders are all Thai men in drag!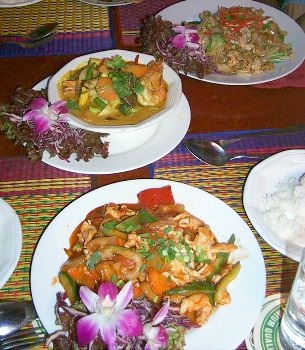 You'll also see a lot of Argentinean, Greek, Indian, Middle Eastern, Eastern European, and Moroccan restaurants.  The quality of these establishments vary, and it's good to ask around to find the better ones.
A good place to sample some creative French/European cuisine at a reasonable price is the Cafe Roux on the Oudezijds Voorburgwal.  They offer a three course menu that's a good value.  Reserve in advance as the Dutch have already discovered this gem.
There is a renaissance of sorts brewing as young Dutch chefs explore a range of new tastes as trendy restaurants sprout up in Amsterdam.  These restaurants often have some cute or funny name in Dutch, and the chefs try to expand the range of the relatively bland food that has been associated with Dutch cuisine.  The best way to find out about these places is to ask around, as we have yet to find a thorough, quality dining guide to Amsterdam (in English, anyway).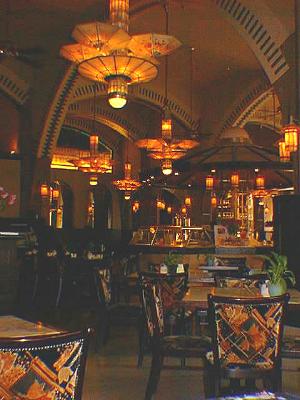 If you're an American and you find yourself in Amsterdam for Thanksgiving (which the Dutch don't celebrate, of course), you can find Turkey and all the other great holiday food at the American Hotel (where else?).  This hotel has a splendid Art Deco restaurant (photo) that serves up tasty American style fare all year round.  It's worth a visit just to view the interior.  It's not cheap, but the quality is very good and the ambiance is tops.  Just remember to make reservations way in advance for a holiday meal! 
Lastly, after a good meal don't forget to tell your hosts that you thought it was lekker! (tasty)

Note: Amsterdam is a gourmet's delight where you can enjoy specialties from six continents. Some good suggestions for further exploration.
Amsterdam's Restaurant Scene
0 comments below
The comments are owned by the poster. We aren't responsible for their content.

Page Generation: 0.03 Seconds