Where to Find Restaurants in Amsterdam
The largest concentration of restaurants in Amsterdam is around the Leidseplein.  In the summer, almost all have outdoor seating.  This is most enjoyable since you get to people watch, musicians come around to serenade you, and you can more easily avoid smokers (often a problem as few Dutch restaurants have non-smoking sections).  Here there are streets leading away from the square with one restaurant after another.  The competition is intense, and after you've spent ten minutes trying to decide which one to eat at, they all start looking the same.  It's a good idea to decide what type of food you want which will make choosing somewhat easier.  You might want to decide based upon ambiance, but if you're eating outdoors, they're all equal.

The Leidseplein area has a number of well known restaurants including 't Swarte Schaep (The Black Sheep) with great food in a cozy 300 year old building (expensive). We found several very good, reliable Italian restaurants in the area, and some not so good Indian restaurants.  The best clue as to how good the food is, is how long the line is! 

The Rembrandtplein is another laid back people watching area. On nice days and summer evenings the area is packed.  Have a beer in one of the large cafes looking onto the park and if you wait, entertainment of some sort usually appears.  Many restaurants line the square and several popular clubs are in the area.  A very good but pricey Indonesian restaurant is on one corner.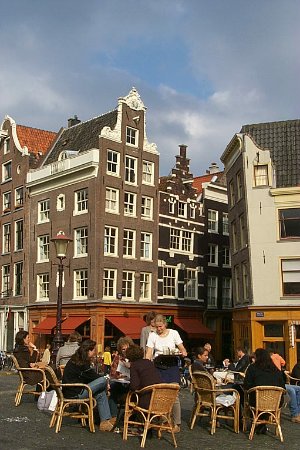 Other areas with a good number of restaurants is Chinatown in the Red Light District, where you can get real chinese food, not the Indonesian version. Try the area around the Nieuwmarkt and down the Zeedijk for the best selection of Asian food in town.
Along Utrechtstraat is a very interesting collection of restaurants, in what is now being called Amsterdam's "Golden Kilometer" including a vegetarian one (The Golden Temple). The Jordaan has many small trendy restaurants and bars serving food throughout the district.  Unless you have time to walk around and discover these gems don't expect to find the perfect place quickly.  If you get stuck you can always check out Pathum Thai Restaurant at Willemstraat 16.
The Spui area has a number of popular restaurants including the famous D'Vijff Vliegen (The Five Flies), which is 350 years old and has served traditional Dutch as well as more modern dishes to the likes of Elvis Presley and others!
Restaurants with views: Since the city is so compact, few places in Amsterdam have good views.  De jaren, a popular hangout near the university has a great view along the Amstel river.  You can sit outside on either of two patios and enjoy a small but tasty menu.  Many people come to meet friends and drink.  The large noisy interior is OK for sitting back and catching up on the news offered in free newspapers and magazines.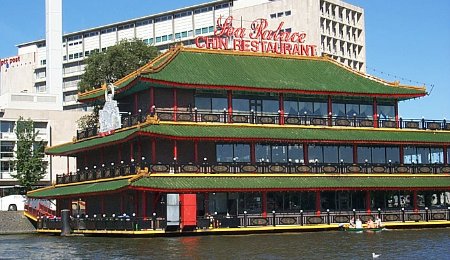 The Sea Palace Restaurant might not have the best Chinese food in town, but the view of Amsterdam from this floating restaurant (Hong Kong style) is excellent.

Note: Find out where the best selection of Amsterdam's restaurants are hiding. Whatever your taste, there's a place to satisfy your hunger.
Where to Find Restaurants in Amsterdam
0 comments below
The comments are owned by the poster. We aren't responsible for their content.

Page Generation: 0.03 Seconds