Amsterdam Bookstore
The following books are available through our affiliation with Amazon.com.
These are the best books currently available.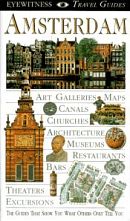 Eyewitness Travel Guides: Amsterdam by Robin Pascoe, Christopher Catling, Deni Bown
This superb guide to Amsterdam has splendid illustrations of the city's architecture including cut-aways of the most important buildings. Detailed maps, descriptive reviews of restaurants and hotels, attractions in and around Amsterdam and walking tours leave no tulip unopened. A joy to behold and a treasury of information about this wonderful city. Highly recommended.
---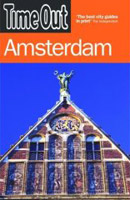 Time Out Amsterdam
Top notch guide to the good life in the city by locals. Eating, drinking, dining, smoking, it's all covered in here. Up-to-date.
---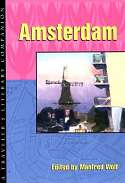 Amsterdam: A Traveler's Literary Companion by Manfred Wolf (Editor)
Amsterdam is a very inspiring place for authors as this book attests. It contains twenty fascinating stories about Amsterdam divided into sections like "Red Light District", "Gay Amsterdam", "Canals". The stories are in English, and some have been translated from the Dutch yielding a rare look at Amsterdam by Amsterdammers.
---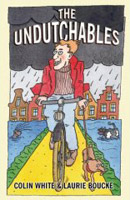 The UnDutchables: An Observation of the Netherlands; Its Culture and Its Inhabitants by Colin White, Laurie Boucke.
The Dutch are an unusual bunch, and this hilarious book does a good job of sorting out their eccentricities. Even the Dutch testify as to its veracity, once they stop laughing. A must if you're going to spend more than a few days in Holland.
---

Get Lost! : The Cool Guide to Amsterdam - by Joe Pauker.

After you've perused our Amsterdam Site, if you want to know more about Coffeeshops, the Red Light district and those other cool things to do in Amsterdam this is the book to read.
---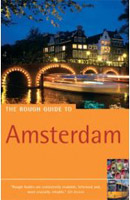 The Rough Guide Amsterdam
Like all the Rough guides, this one is geared towards the independent traveler and has lots of tips for finding what you need in Amsterdam. Good maps include sights, bars, hotels, restaurants, clubs, and public transport routes.
---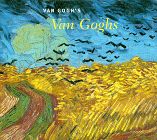 Van Gogh's Van Goghs : Masterpieces from the Van Gogh Museum, Amsterdam by Richard Kendall, Vincent Van Gogh, John Leighton, Van Gogh Museum
If you're a fan of Vincent's work and you haven't got a chance to see his work at the Van Gogh or Kroller-Muller museum, or when it was on tour, here's you chance to see the master in his glory.
---

Lonely Planet Amsterdam Map
This sturdy, waterproof map is all you need to navigate Amsterdam's confusing maze of streets and canals. Includes the many mass transit options.
---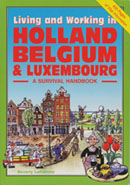 Living and Working in Belgium, Holland and Luxembourg by Beverly Laflamme
Whether you're moving to Holland (or Belgium) permanently or just for awhile, this book has indespensible tips on such subjects as finding a job, legal issues & bureaucracy, finding a place to live, services, money matters, vehicles & driving, shopping and entertainment. If you're unfamiliar with these countries, this book is a must! It will save you tons of hassles and aggravations learning the in and outs of these countries.
---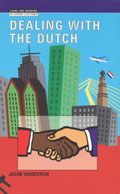 Dealing With the Dutch by Jacob Vossestein
The Dutch are a peculiar people, and it's easy to make wrong assumptions about why they behave the way they do. This excellent book will set you straight about Dutch tolerance, money issues, the role of management in business, competition, social issues and more. There's a lot more going on than meets the eye in Holland, and the author shares his insights, as well as those of many foreigners he's interviewed. Once the stereotypes vanish, you're left with an even more intriguing and complex society than you imagine. A must for business people and anyone hoping to understand the Dutch.
---

Anne Frank : The Biography by Melissa Muller, Rita Kimber (Translator), Robert Kimber (Translator), Miep Gies

This book includes the missing pages that Anne's father left out of the diary. The author explores the lives of the family before they went into hiding as well as the larger historical context.
---

The Diary of Anne Frank : The Critical Edition
by Anne Frank, David Barnouw, Gerrold Van Der Stroom, Arnold J. Pomerans
This special edition compares three versions of Anne Frank's diary.
Note:
Our selection of alternative Amsterdam travel guides, maps and books about the Dutch.
Amsterdam Bookstore
0 comments below
The comments are owned by the poster. We aren't responsible for their content.

Page Generation: 0.04 Seconds