Soft Drugs, Smart Drugs, Paraphernalia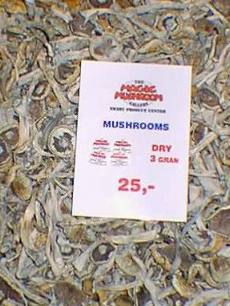 Thanks to the tolerant attitude of the Dutch, soft drugs (marijuana and hashish) are everywhere and can be purchased at any one of over 400 coffeeshops.  See our Dutch Coffeeshop Scene for more info.  In addition all over town are smart shops that sell magic mushrooms, and herbal ecstacy type products.  If you're looking for these sorts of soft drugs we recommend a stroll down the Damstraat into the Red Light District.  What ever you do, don't buy anything on the street.  Not only will you get ripped off, you might get sick!  There is no need to buy soft drugs on the street!  And lastly, don't bring any drugs back home, it ain't worth the risk!

Note: From marijuana to mushrooms, bongs to bubble bags or herbal extasy to hemp soda, Amsterdam offers up an amazing array of tempting treats for your psychedelic party.
Soft Drugs, Smart Drugs, Paraphernalia
0 comments below
The comments are owned by the poster. We aren't responsible for their content.

Page Generation: 0.02 Seconds