Go Shopping in Amsterdam!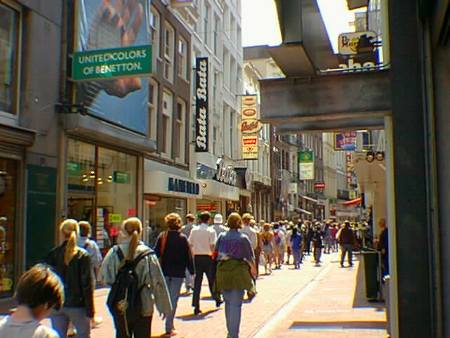 The Nieuwendijk and Kalverstraat together form a pedestrian shopping mall nearly a mile long.  This area has everything, but clothing dominates.  Paralleling these streets one block east is another set of shopping streets, the Damrak and Rokin.  The Damrak which starts at Centraal Station caters mainly to tourists with travel agencies, banks, restaurants, and American Express.  The Rokin has Vroom and Dreesman, a large department store, and some very tony shops including Sotheby's Auction house.  Another area for upscale shopping is the Museumplein area around the Concertgebouw where trendy boutiques carry the latest fashions.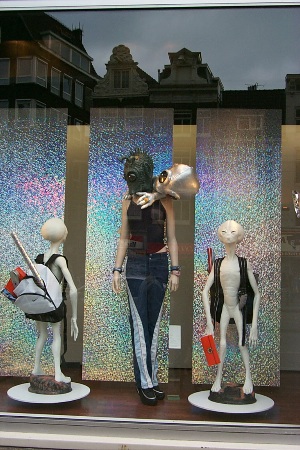 A very interesting stretch of small shops extends from the Dam down the Damstraat (it changes names).  Here you'll find the largest collection of headshops, smartshops, coffeeshops, import shops and weird stuff anywhere. Whether you're looking for a bag from Bali, a vest from Nepal, a bong or waterpipe or something to put into it you'll find ample selection here.  Along this one street you'll find a great bakery, Rene's Croissanterie, the Old Man Headshop, the Greehouse Coffeeshop and the Ecstacy Coffeeshop, the Hash Hemp Marijuana Museum, the Sensi Seed Bank and Coffeeshop, and many, many more alternative shops.
The Waterlooplein is the setting for a huge market everyday except Sunday.  This is the place to find bargains on clothes, some furnishings and a range of used items.
If you're looking for antiques, bookstores, lamps, or weird knick-knacks try the Jordaan where small boutiques offer a more intimate shopping experience. This area, full of artists and students, is a fine place to just browse around, because you never know what you'll find. Narrow, tree-lined streets and canals with little traffic will make your shopping experience a pleasant one. Small inviting neighborhood cafes, coffeeshops and restaurants tempt you to take a break.
If you're looking for furniture, appliances, electronics and other household items, there are some shopping areas that specialize in these items. Try the Ceintuurbaan in town, or go south of town to the Arena area where there's Media Markt (electronics & appliances), a good sporting goods store and more. Also there are many huge shopping complexes with stores like Praxis (hardware), Makro (Costco-like wholesale), Ikea (furniture), A&P hypermarkt (groceries, small appliances and clothing). These stores are usually way cheaper than you'll find downtown. A car is essential to bring back any big purchases.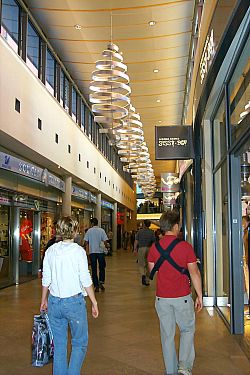 Another good alternative can be found down in Amstelveen, a southern suburb of Amsterdam. There are two modern indoor malls (see photo left) and one outdoor shopping street with mostly designer logos.
There's all the same chains you'll find in Amsterdam from the Blocker to Vroom & Dreesman to De Bijenkorp. A few American chains are there too, like Timberland. It's a bit upmarket, and very crowded on the weekends, but still a slower pace than Amsterdam.
Take the metro to Amstelveen Centraal or the 5 tram south to it's terminus right at the mall.

Note: Whether you're looking for fashions, electronics or just some souveniers, here's some tips on where to go to make your shopping easier.
Go Shopping in Amsterdam!
0 comments below
The comments are owned by the poster. We aren't responsible for their content.

Page Generation: 0.03 Seconds