The White Bicycles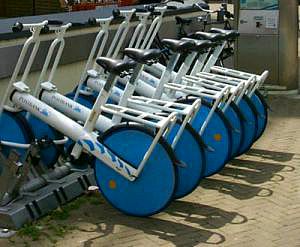 The White Bicycles (Witfiets) can be found at various locations in Amsterdam. They represent a revival of a concept that was tried in Amsterdam in the 1960s. Back then, Luud Schimmelpennink an environmentalist, along with an activist group dreamed up a plan to put free bicycles on the streets of Amsterdam. They figured if there were enough bicycles people could just grab one wherever they were and leave it at their destination for someone else to use. So a number of bright white bicycles were set out for the public.

Unfortunately the bikes were quickly stolen, and the program was cancelled. Yet the idea caught on and many other cities, especially in America have experimented with similar systems with mixed success. A battery powered vehicle program called the WitKar was tried in 1986, but there were so many problems with the vehicles, that unique experiement was quickly abandoned.

Then in 1998, this idealistic vision was once again revived by Luud Schimmelpennink, and with the help of new technology and corporate sponsors, the white bike is back! Electronic locks and hidden microchips in the bicycles help ensure they don't get stolen.

There are now 19 depots around town, with 26 more planned for a total of 450 bicycles. Some of the places you'll find them are: The Waterlooplein, Kerkstraat, the Artis, Nieuwmarkt, Westermarkt and Korte Prinsengracht.

It seems they've avoided the most touristed places, as the system is geared more to locals than visitors, especially since the Depo system requires you use a smart card or "chipper" to get a bicycle. The way it works (as far as I can figure) is that you insert a card, enter your pin number, then a bicycle is released to you. You then have a half an hour to get to your next destination. You may have it out longer, but if you keep it out too long, you'll risk being denied the use of the bicycle next time!

Update: As of now (March, 2002), I no longer see any of these bicycles at their stations. There goes another great idea, down the tubes!

Note: An environmentally friendly solution to urban traffic and bike theft!
The White Bicycles
0 comments below
The comments are owned by the poster. We aren't responsible for their content.

Page Generation: 0.02 Seconds