Amstel Station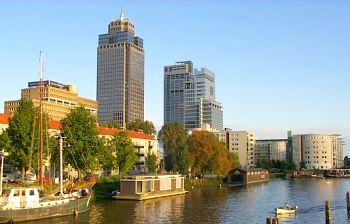 Amstel Station Office Towers & the Amstel River
Amstel Station is a huge hub, south of Amsterdam's city center, on the Amstel River, that provides transportation links further outside the city and to the rest of Europe. Besides the Metro and Trains there are city buses and trams (no. 12), and Eurolines (international buses) has a hub here. One block away is EasyRentaCar.
The station is currently under major renovation and the surrounding area will be completely redesigned in the coming years, turning the station into an even bigger transportation hub.
The station already has fresh coat of paint and a major clean-up. New tilework, escalators and elevators are in place and running. New shops have opened including several sandwich shops, a Pizza Hut, a ticket outlet for major entertainment events, a small Albert Hein market for snacks and groceries, and more is planned.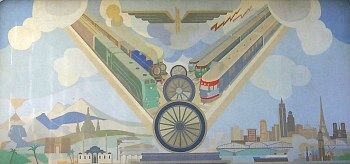 Beautiful Mural in Amstel Station
The buildings from left to right, Amsterdam High School, the Rembrandt Tower (tallest building in Amsterdam), the Phillips tower and the Mondriaan Tower provide much more office space in what is becoming a choice location for multi-national business.
So if you're planning any trips elsewhere in Holland or Europe, you might go through Amstel Station. There's also a nice bike path south along the Amstel River that goes to Diemen, Duivendrecht and Abcoude.

Note: Amstel Station is a huge hub on the east side with connections to destinations all over Europe.
Amstel Station
0 comments below
The comments are owned by the poster. We aren't responsible for their content.

Page Generation: 0.02 Seconds