Jorge Cervantes Visits Cannabis College
World-famous author and horticulturist JORGE CERVANTES visited the CANNABIS COLLEGE on Saturday, September 29, 2001. Jorge was in Amsterdam to present his new book "INDOOR MARIJUANA HORTICULTURE - THE INDOOR BIBLE" and sign copies for guests.

A party for Jorge was held in the Cannabis College, located on the Oudezijdes Achterburgwal in Amsterdam's recently renovated Red Light District. Invitations were sent to "potsenalities" and media representatives from around the world, and the public was also invited to attend.

Review this book!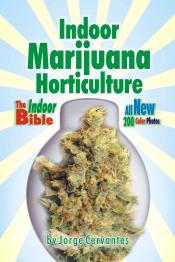 "INDOOR MARIJUANA HORTICULTURE" was originally released almost 20 years ago, has undergone several revisions over the years, and was translated into four languages. Jorge Cervantes has spent the last year completely rewriting, reorganizing and re-illustrating "INDOOR MARIJUANA HORTICULTURE - THE INDOOR BIBLE" to reflect all the latest advances in horticultural techniques, and in the processing of the plant itself after harvesting.
During the party at the Cannabis College an open bar offered hemp wines and beers, and vaporizer demonstrations and tours of the basement garden were also offered.
Local "potsenality" Eagle Bill was on hand to professionally demonstrate the uses and features of his invention, the vaporizer. Visiting growers were kind enough to supply samples of their various strains of weed, and the mood elevated nicely as the vaporizer did its job. Numerous hash-tobacco joints were passed around, and clouds of smoke filled the Cannabis College for one of the most fun evenings ever held there.
The Cannabis College's Head Grower, Spencer, was on hand to bring visitors on tours of the spectacularly flowering garden in the basement of the College. Five strains are currently being grown in the basement, all organically: Kali Mist, White Russian, Swazi Safari (which I have sampled and swooned over), Pot of Gold and Twister. Spencer tells us that the purpose of the garden is to show people that ANYONE can grow weed that's good enough to smoke, EASILY.
Jorge Cervantes has donated funds for the creation of new displays in the Cannabis College, which will be created and put on view by his book designer and editor, Martin Trip. The displays will be of all the color photographs from the "Indoor Marijuana Horticulture – The Indoor Bible" book along with descriptive text to show the amazing grow rooms around the world and the amazing stuff being grown in them. We will make an announcement here when the displays are available for public viewing.
Visit Jorge's Website: www.marijuanagrowing.com
Jorge Cervantes Visits Cannabis College
0 comments below
The comments are owned by the poster. We aren't responsible for their content.

Page Generation: 0.03 Seconds