Rembrandtplein

A popular place on sunny days and every night of the year, the Rembrandtplein is always alive with people and action. The park is a tribute to the famous Amsterdam artist, Rembrandt van Rijn, and there's a statue of him in the center.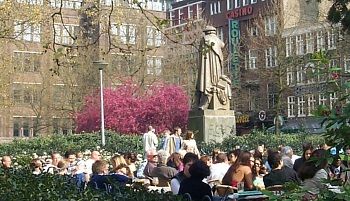 On one side is nice grassy area, which hosts a beautiful tulip display in the spring. Shade trees provide some relief from summer heat.
The center park is surrounded by cafes, restaurants, nightclubs, casinos, a bank, a four-star hotel and a coffeeshop. Sit in a sidewalk cafe, order a beer, and watch the show!

Note: The Rembrandtplein is a fun place to visit, eat, hangout, or party - day or night!
Rembrandtplein
0 comments below
The comments are owned by the poster. We aren't responsible for their content.

Page Generation: 0.04 Seconds