Museumplein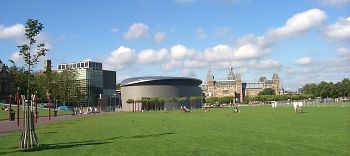 Amsterdam's Museumplein has been completely renovated, and is now one of the most popular parks in the city. A huge expanse of green grass extends from the Rijksmuseum on one end to the Concertgebouw on the other. Also surrounding the Museumplein are the Stedelijk Museum, the Van Gogh Museum, an underground Albert Hein supermarket, as well as embassies including the American Consulate cattycorner from the Concertgebouw.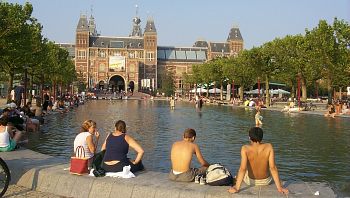 The Museumplein has some new, noteworthy features including a huge wading pool by the Rijksmuseum, that doubles as an ice skating rink in the winter. A skateboard park, kiosks selling refreshments, and an underground carpark round out the facilities. A visit to the park is recommended on sunny days or if you happen to be in the area for the museums. You could pick up a snack and watch the people playing football, frisbee, or just grab some sun while it lasts.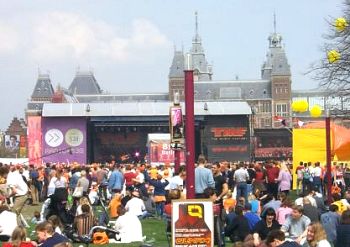 The Museumplein is also host for the biggest events of the year in Amsterdam including Queen's Day and the Uitmarkt. Evening pop or classical concerts have become very popular, and the venue has proved to be excellent, with many of the performances being aired on national TV.
Access to the park is easy. Just take any tram heading towards the Museumplein. These include the 2, 3, 12 & 20.

Note: Home to Amsterdam's famous museums, the Museumplein is a popular place for public events or just hanging out!
Museumplein
0 comments below
The comments are owned by the poster. We aren't responsible for their content.

Page Generation: 0.01 Seconds