Nieuwmarkt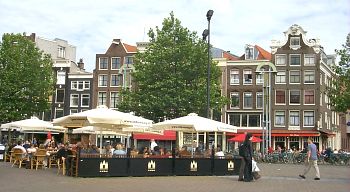 Located at the edge of Amsterdam's Red Light District, and part of the ever expanding Chinatown, the Nieuwmarkt, is a picturesque open space with lots of bars, restaurants and coffeeshops in the area.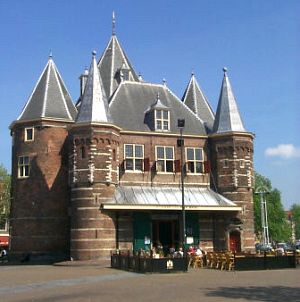 Dominating the Nieuwmarkt is the Waag, once part of the ancient wall (circa 1488) around Amsterdam, it now houses a trendy organic restaurant.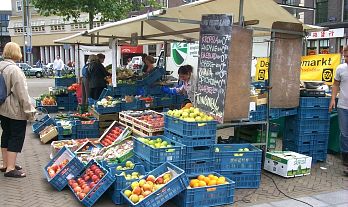 Everyday there's a produce and flea market in the Nieuwmarkt, and on Saturdays from 9-5 it's an organic food market. On Sundays, an antiques market goes on from 9 to 5 (May-Sept.).
Recommended in this area are the Cafe Cuba, the Cotton Club (next door) which offers live jazz (free!) on Saturdays. There are several asian markets, and specialty shops in the vicinity, as well as good Chinese and Thai restaurants. A couple of seafood markets in the area are great for picking up fresh fish.
Weekends and sunny days bring out the Dutch in droves to enjoy the outdoor cafe scene. So whether you're looking to do some shopping, or you just want to hangout, the Nieuwmarkt is a great place for both!
The Metro is the easiest way to get there, stopping right at the Nieuwmarkt. Or it's an easy walk from any centrally located hotel.

Note: The Nieuwmarkt is ideal for a pleasant drink or meal outdoors in a picturesque square, especially on a nice sunny day.
Nieuwmarkt
0 comments below
The comments are owned by the poster. We aren't responsible for their content.

Page Generation: 0.03 Seconds