Zeedijk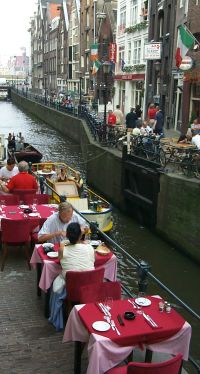 The Zeedijk has been renovated and is now a wonderful pedestrian mall that wanders through the oldest part of Amsterdam. Once the shipping center of Amsterdam, it's now home to Amsterdam's Chinatown with restaurants, pubs, small shops, and many residences hidden away on upper floors.

Most of the buildings in this area have recently been restored as well, and the facades are as beautiful as ever. This is one of the best areas in town for Asian food, check out our restaurant guide for more info.

TIP!: A good tour would be to start at the Nieuwmarkt, proceed down the Zeedijk, return back via the Warmeosstraat, see the Oude Kerk, and cut across the Red Light District. Metro: Centraal Station or Nieuwmarkt

Note: The Zeedijk wanders through the Red Light District of Amsterdam. It's the heart of Chinatown and home to many Asian restaurants and shops.
Zeedijk
0 comments below
The comments are owned by the poster. We aren't responsible for their content.

Page Generation: 0.03 Seconds