Gay Pride Parade 2003
This year the sun was shining, the floats were outstanding, the crowd mellow and happy and everyone had an absolutely fabulous time!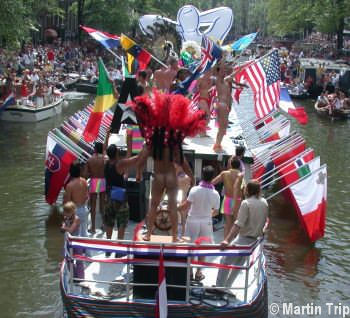 Holland extends a warm welcome to gay people from all over the world.

We'd heard the rumours of more nudity and live sex, but the acts were tasteful, with only some exposed flesh (see above).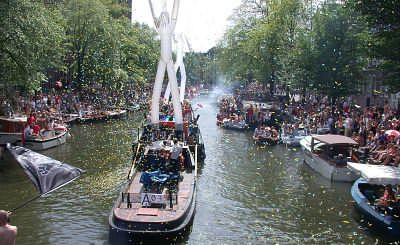 The giant lurching balloon men dancing in the wind over the canals were a nice touch, like monsters from the id. Here in Amsterdam they were happily dancing away in the pouring sunshine along with 250,000 or more observers.

Divas were the order of the day, as usual... and today they were out in force, in high style, and definitely gave something of a theme to the parade. Divas were seen on barges with supporting acts and amazing sound systems. Other divas were seen solitarily proclaiming their beauty and grace from smaller craft. One was seen precariously lurching on high heels down the canals in a venetian gondola complete with a handsome oarsman. The fact that she was clutching a golden Oscar statuette only further added to her mystique...

Gay Pride is an International Event!

Around 80 floats were registered to participate, but there were actually hundreds of boats floating around out there, not counting the thousands more parked canalside along the route.

The coolest way to enjoy the spectacle was to have your own boat, tethered to the side of a canal, enjoying the envious glares of the peeps standing alongside the canals, or hanging over the edges of bridges above you. But the bridges were also nice places to watch from. Which is where I showed up at two hours early to get a good spot for taking photos. Every available inch of space was taken along the Prinsengracht an hour in advance.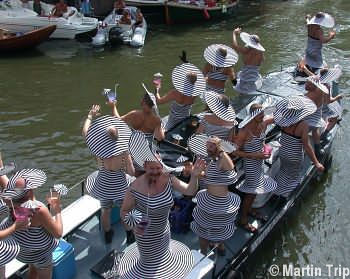 From my spot in the middle of the bridge, I was able to watch the barges as they came out from underneath the bridge at my feet. The acts would be lying flat on their backs as they came under the short old bridges, and pop up into full scale song and dance numbers complete with awesome sound systems and other "popup" decorations.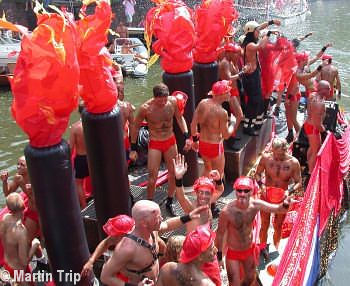 Gay Pride 2003 was incredible to say the least. Far better than years in the past with drenching rain and cold winds. Maybe it was the weather, maybe it was the contact high in the crowd from the clouds of Cannabis smoke, whatever, it was great.
This was your roving reporter Martin Trip with another on-the-scene eyewitness account of life in Amsterdam.
Gay Pride Parade 2003
0 comments below
The comments are owned by the poster. We aren't responsible for their content.

Page Generation: 0.01 Seconds