Vietnam: Day 6 (Mekong Delta) Part 2
I left the area, feeling a twinge of sadness for the poor man and headed to the local market. It was interesting to see the city's heart (Any market in Vietnam is a city's heart, and the major waterways are its arteries), but the place smelled terrible. I didn't care. I found a spot with filthy lawn chairs, under yet another corrugated metal roof and collapsed. I couldn't fathom standing up, but my thirst was not satisfied, so I forced myself to stand up, walk a meter or so and attempt to order an iced coffee. I had to make elaborate hand motions and use my very few words in Vietnamese, but eventually the iced coffee was ordered and delivered to my chair (for only 6,000 Dong, or about 30 cents). I made the mistake of taking milk. All milk in Vietnamese coffee is evaporated and far too sugary. The coffee was extremely strong, heavily caffeinated and sickly sweet, but it quenched the thirst and it got the job done. I had two.

The coffee must've been damn strong, for I suddenly did not want to sit in that chair that had previously felt like my last hope for salvation from an overwhelming tiredness. I leaped out of the lawn chair and started walking along hurriedly to no particular end. It felt like I had just railed a good clean line of meth. I was awake and I had a nice rush. I've never had such strong coffee in my life, but I could certainly get used to it (if it was a little less sweet, at least). I felt my heart thumping and even the stinky meat stalls seemed interesting. If I had this stuff at home, I'd never be late for anything ever again. My punctuality would go through the roof.
Eventually, I headed back to my bus, still a little shaky, but glad to be in the heavily air-conditioned vehicle. As we had travelled quite far on the boat, the trip back to inner Saigon would be much longer -- three hours or so. I settled in to finish off The Rum Diaries and I was done the novel exactly as we arrived It gets better near the end and I do recommend it, if you're a fan of Hunter S. If you're not, this one certainly won't change your mind.

An interesting note is that after passing a rural area full of rice paddies (and what appeared to be fishing ponds in bomb craters), the majority of the three hour drive was driving through Saigon. It is not a very tall city and not the most populous (6 million or so), but it is a sprawling, unending and wide city (as you can also see from a low flying airplane). Driving to District 1, you will spend hours just passing through Saigon.

Eventually we got there and had a fine meal at Restaurant 13 (I recommend the pumpkin flowers, lemongrass chicken and anything with squid) and went to Saigon Square, which is something in between a market and a mall. It is extremely crowded and full of the usual knockoffs, but an interesting experience. I was struck one stall that was kept empty, guarded, tidy and perfect: the altar amid the chaos. Every building has a Buddhist alter, which -- no matter the squalor -- is kept immaculate.

Eventually I got heavily claustrophobic and had to push my way out of Saigon Square. I ran out, dripping with perspiration and fear. If I had eaten that hypothetical windowpane for the beauty of Mekong Delta and the circular hedges earlier in the day, I would be regretting it now. We hailed a cab and headed, yet again, through the sea of motor scooters. There are two trustable taxi companies in Saigon; VinaSun and Mae Linh. VinaSun taxis have little TVs in the back. This one was playing some sort of Kung-Fu flick silently. I was tired, yet content and tranced into the Kung-Fu back to District 10.

It is now two in the morning and I have to wake up in five hours or so. I have updated my journal, gotten a little writing done and completed a huge and highly detailed panoramic sketch of an island off the coast of Phu Cuoq (I started it on the boat two days ago). It seems like the fast paced culture of Saigon has some how increased my productivity level and I feel tired, yet content. At least I know, I'll have the option of heavily stimulating myself with another cheap iced coffee tomorrow morning and sleeping on the bus with the caffeine crash. Drug use, whether it be legal or illegal, is all about timing.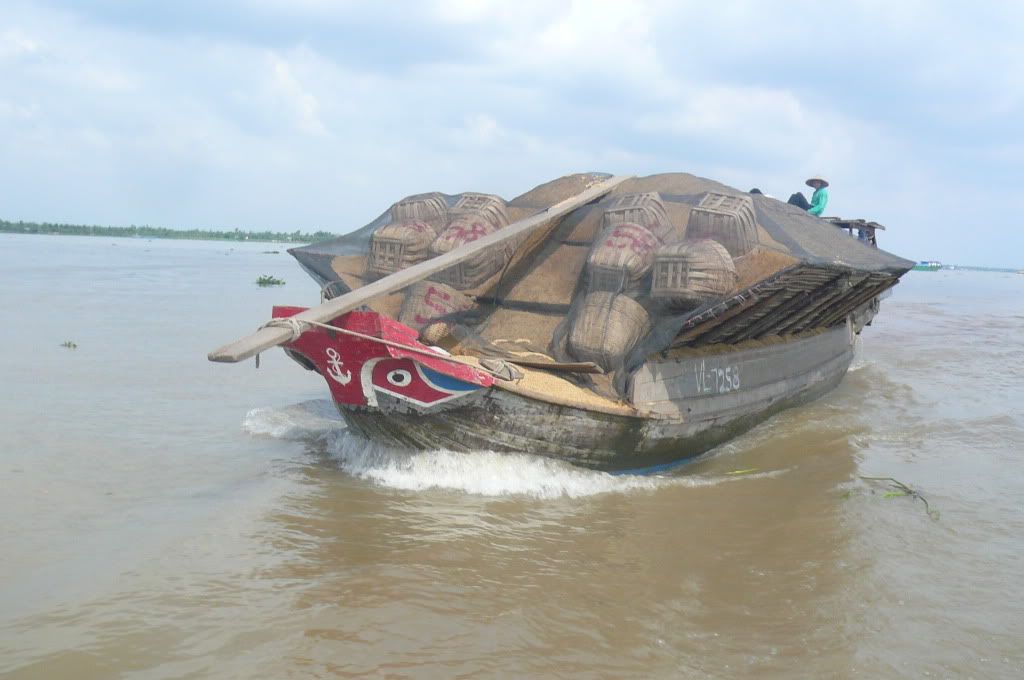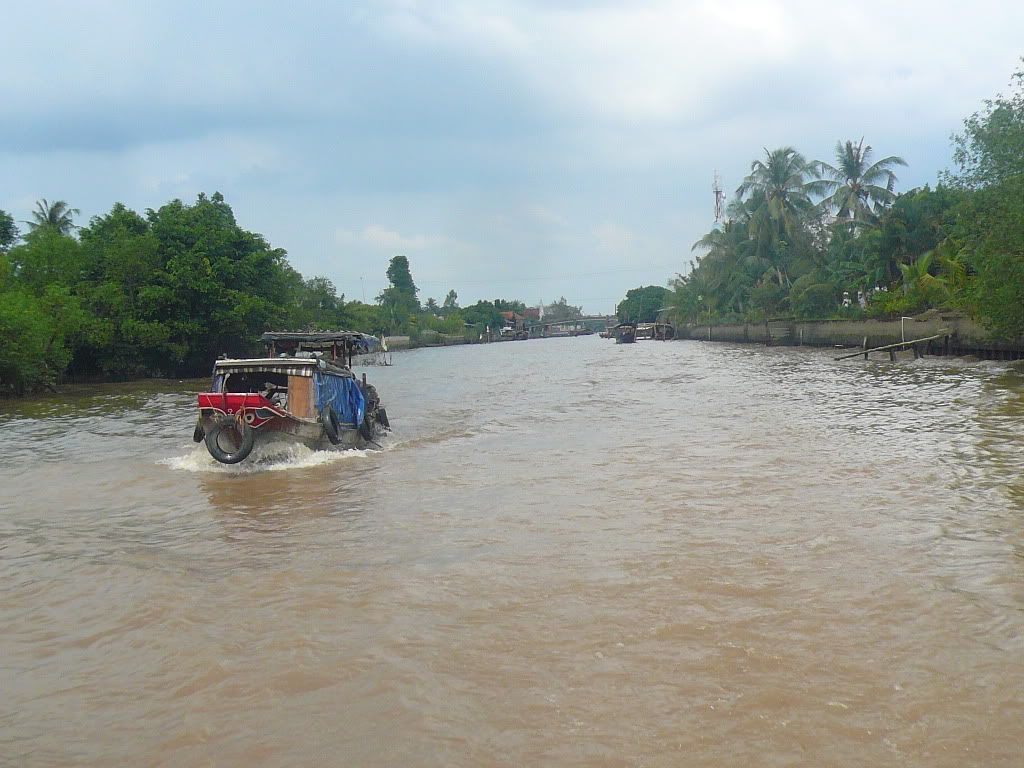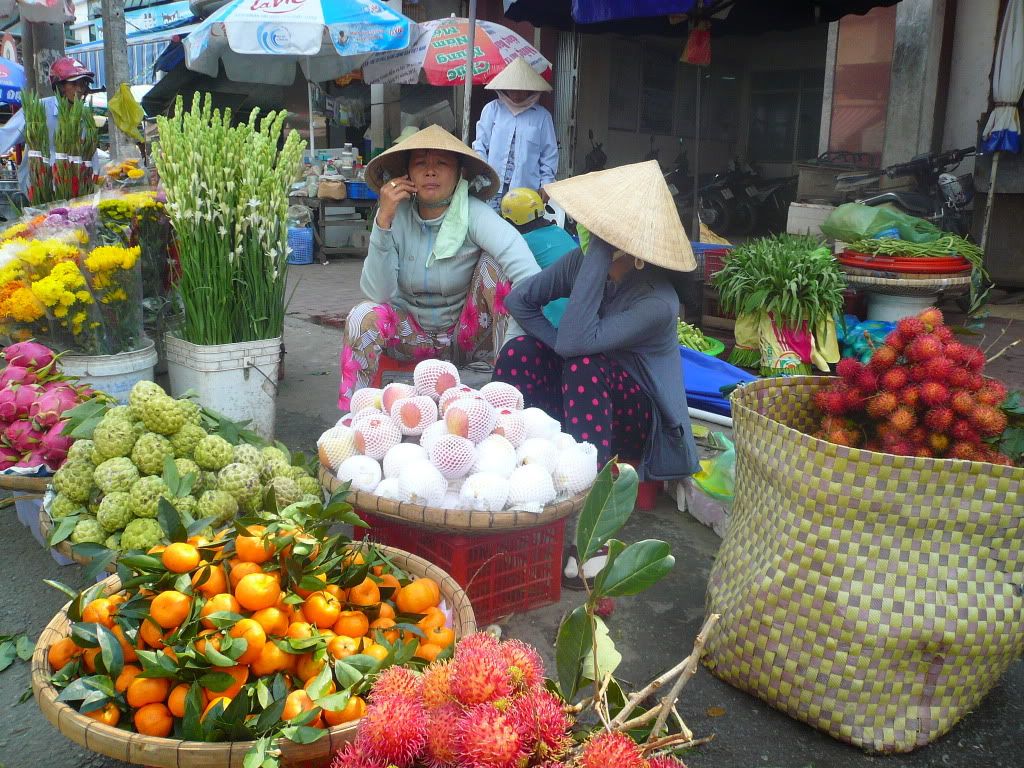 -Peace and Love!

Next:
-War tunnels
-Guns
-Guns
-Guns!!
Vietnam: Day 6 (Mekong Delta) Part 2
0 comments below
The comments are owned by the poster. We aren't responsible for their content.

Page Generation: 0.03 Seconds