Barcelona Super Hotel Deals!
Spain is one of the most fun and exciting countries in the world to visit. From snowcapped peaks and ski resorts down to the palm treed semi-tropical shores of the blue Med, Spain will delight your senses and keep you coming back.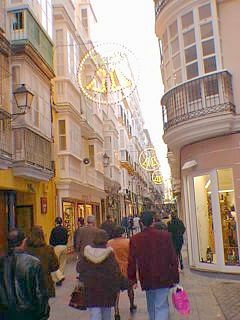 Cosmopolitan cities like Madrid and Barcelona are rich with art and culture. The extraordinary coastline along the Mediterranean hosts dozens of resort towns where guests from all over Europe stay for weeks on end in high rise hotels, condos and villas. It's not hard to find the sun, sand and surf in Spain. Yet hundreds of quaint villages in the interior wait to be explored far from the hustle of cities and tourist destinations.
This site will help you explore all Barcelona and Spain have to offer the visitor including 1000+ Hotels, restaurants, museums, shopping, an event calendar, Spain map and factsheet, Spanish Recipes, Tips for Tourists, Spain Forum and our Spain Photo Gallery. We even have a Bookstore with a good selection of travel books about Spain. Browse around our site and let us know what you think!
Visit Spain with this map. Double-click to zoom in, click and drag to move it around. Change from satellite view to road map to combination maps. Fly into Barcelona, drive to Madrid, then south through Grenada, and up along the Mediterranean coast and up to Girona and Figueres using this map.
A Hip Guide to Spain intro short about the wonders of ancient and modern Spain. Visit Barcelona, Calpe, Moraira and more!
A visit to the famed La Sagrada Familia in Barcelona, Spain. This is considered to be Anotonio Gaudi's unfinished masterpiece, a grand cathedral still under construction. This is truly one of the most wonderful pieces of architecture I have ever visited.
Visit Barcelona's Las Ramblas and enjoy some of the colorful street entertainers that line the walkway to the sea.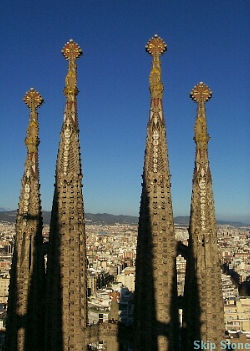 People will finally be able to worship in La Sagrada Familia, Antonio Gaudi's beautiful church in Barcelona, after the Pope dedicates it this Sunday.  The church has been under construction for 128 years, and will require many more years before completion.

Read More
Spain - Holidays 2012
January

Sunday, January 1st 2012
Año Nuevo (New Year's Day)
public holiday in Spain

Friday, January 6th 2012
Epifanía / Reyes Magos (Epiphany)
public holiday in Spain