---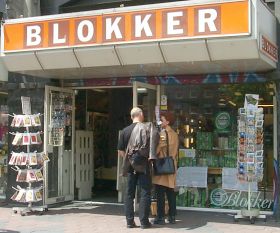 The popular Blokker chain of stores can be found in most every shopping district in Holland. They sell a good range of household items, focusing on kitchenware, house cleaning utensils, small electronics, plastic goods, seasonal items, gifts and various sundries.
Check out their weekly flyers for specials.
Prices are good but be prepared for crowded tight aisles jammed packed with merchandise and shoppers.
There's a big three story Blokker on the Nieuwendyke, but most are smaller neighborhood stores like the photo above.
---
More Info on Blokker
Address:
City: Amsterdam
Postcode:
Phone:
Fax:
Added: February 14th 2002
Score:




Hits: 9379
[ Top | Back to Review List | Post Comment ]
Blokker
Posted By:
lisa dollie
On: August 11th 2008
My Score:





it is good value and my daughter bought half the shop when in holland last year well worth a look
---
Blokker
Posted By:
betty
On: September 21st 2005
My Score:





I recently bought in you shop on Damrak silicon cover but on returning home I find the instructions are not in English Can you help?
---
Blokker
Posted By:
Jack Docters
On: May 28th 2005
My Score:



Hallo Mijnheer Blokker, In een winkel van u in Belgie zag ik een tuinmeubelset van het merk "Venice" hiervan waren de stoelen a 14,95 los te koop . Hier in Nederland zijn deze tuinstoelen niet los te verkrijgen, hoe komt dat ? Waar kan ik die los kopen in Nederland, ik woon in Eindhoven. This e-mail address is being protected from spambots. You need JavaScript enabled to view it. Jack Docters
---
Blokker
Posted By:
A.J. Kastelein
On: October 31st 2003
My Score:





De heer Blokker mag dan veel kritiek hebben op allochtonen en illegalen, grappig is dat hij ze zo te zien wel de gebruiksaanwijzing van het calorie-horloge laat schrijven. Kijk voor de aardigheid even op WWW.koelman.com Hilarisch!!!!
---
Blokker
Posted By:
Anonymous
On: May 29th 2003
My Score:





i live in england,and bought a parosol,from blokker at delft,on 17 -5 -03 on inspecting it in england ,i found a crack in the spool housing,I cant find an e/mail address,so am hoping this letter will reach some help. yours gary cutts e/mail This e-mail address is being protected from spambots. You need JavaScript enabled to view it.
---
Blokker
Posted By:
Anonymous
On: July 21st 2002
My Score:





Hi Blokker, ben een vriendin van Michelle, from Miami, ik heb een oud Aap, Noot, Mies, lees blokje en die kopjes zouden er leuk bij staan. Laat mij weten of ik ze kan bestellen? Everdina Harmsen/Bloem This e-mail address is being protected from spambots. You need JavaScript enabled to view it.
---
Blokker
Posted By:
Anonymous
On: July 21st 2002
My Score:





Hi Blokker, ben een vriendin van Michelle, from Miami, ik heb een oud Aap, Noot, Mies, lees blokje en die kopjes zouden er leuk bij staan. Laat mij weten of ik ze kan bestellen? Everdina Harmsen/Bloem
---
Blokker
Posted By:
Anonymous
On: July 21st 2002
My Score:





Hallo Blokker, Was gisteren op de koffie van de Holl. Club hier in Miami, en de hostess had eenige koppen en bordjes van "Aap, Noot, Mies". Zij vertelde, dat zij die een jaar of drie geleden gekocht had. Hebben jullie die nog in Amsterdam b.v??? Alvast bedankt, Michelle Marx, Miami, Florida. This e-mail address is being protected from spambots. You need JavaScript enabled to view it.
---