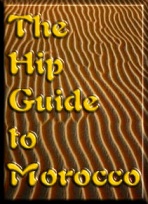 Agadir

If you're in need of modern civilization after visiting the remote reaches of the Sahara or even just a break from the standard Moroccan cuisine, you could take a "vacation" from Morocco in Agadir. Agadir is a European resort town with a great beach and a variety of food and nightlife. Just don't come here thinking this has anything to do with Morocco.

After being in Morocco for almost a month, I had begun to digest rather poorly. Not hard to imagine considering the laughable standards of hygiene practiced here in Morocco. I could barely stand to look at Moroccan food any more, and longed for a simple dish of pasta with tomato sauce. So we decided we had enjoyed enough of Essaouira, and found a grand taxi to take us to Agadir, the "touristic" capital of Morocco. The reasoning behind this decision was motivated by a desire for good food and the need for Internet access!

The drive south was nice, at first winding through mountains covered with Thuya wood and Argane trees. The Argane trees are inhabited by the famous flying goats of Morocco, who aren't actually flying so much as just climbing the trees to get to the tender shoots of greenery between the thorns on the branches. The Moroccans make an oil renowned as an aphrodisiac from the nuts that grow on the trees. By law they can only use the nuts that fall off the trees, only the goats are allowed to climb the Argane trees!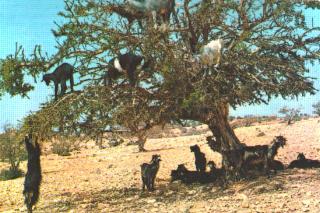 The flying goats!
The second half of the journey, along the rocky seashore of the Atlantic, was beautiful. We saw a lot of places to camp and various little seaside resorts along the way. There were are a lot of vehicles from northern Europe, mostly caravans, along that stretch of coast.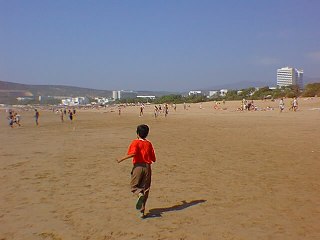 The wide sandy beach is the big attraction in Agadir
Entering Agadir you pass the port on the north end of town, where a huge commercial fishing fleet is based. Along the road are numerous fish stalls and restaurants, with everything fresh from the port. The town of Agadir is very modern and clean, having been completely destroyed and rebuilt after an earthquake in 1960. The stretch along the sea is filled with high rise resorts and restaurants. The downtown area has all the banks, travel agents, shops and more restaurants.
We were lucky enough to find an apartment for two weeks with its own kitchen. The Apart-Hotel Igoudar is in a great location only a couple of blocks from the sea. We were on the top floor of a jumbled pile of apartments done up in modern Moroccan Kasbah style with lots of stairways, seven in fact, to get to our pad. The view to the southwest was great for sunsets. The landscaping of the condo grounds was lush and tropical, with bougainvillea and hibiscus blooming everywhere. Our apartment was well laid out and had a small kitchen, living room with bed, bedroom with two beds, as well as a nice bathroom with tub and shower.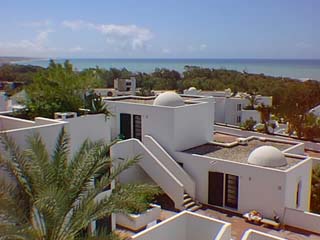 View from Hotel Igoudar
Just outside the hotel were a lot of shops and restaurants, including a market with a large selection of alcohol, and a small selection of food. I was amused by the shopkeeper there. Nothing was marked with prices, and he sat at the cash register punching in whatever amount he could think of at the moment. Every time I shopped there the very same thing would have a different price! But the guy spoke seven languages and laughed at everybody all day long. Besides, where else was I going to go shopping?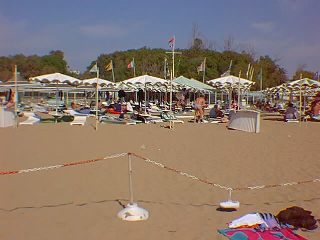 You can rent umbrellas and beach chairs
The way of doing business with the shopkeepers becomes very tiring after a while, especially if you're not an Arab! It seems the art of bargaining is bred into them, and they enjoy it. I like going to see an item for sale, and deciding on my own whether or not to buy it if I think it's a good price. In Morocco you have to ask for a price, and then offer something absurdly low, and go back and forth until you think you are going to explode! And if you say, "no, thank you" and try to walk away, they cling to your arm and whine and follow you with tales of their starving children.
During the following week we enjoyed the sea, the sand, the blue sky and the nice warm weather. The Moroccans had a big holiday that week, which meant the grocery and just about everything else in town closed down completely. It was the Aid el Kabir, Festival of Sacrifice, in the spring when they slaughter a few million lambs, eat lots Kefta and save the hides for a rugs. The entire country seems to go home to family and friends for the week, and travelling is out of the question, so we stayed in Agadir and relaxed.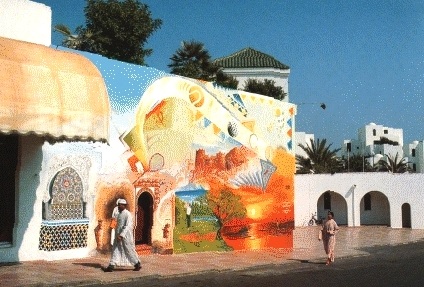 Mural outside Hotel Igoudar
During our stay in Agadir we befriended a nice Dutch lady at the Holland International Tour offices who helped us find the apartment we stayed in. She also helped arrange the itinerary for the next leg of our Moroccan journey. We ended up booking a weeks worth of accommodations in a few towns along our way, Taroudant, Ouarzazate and Zagora. It was a relief not having to worry about lodging and eating arrangements for a while!

Agadir Tips
Agadir is a European package resort located in Morocco. It is most definitely NOT Moroccan! Nevertheless it boasts a great beach, high quality hotels and restaurants, and a fantastic climate. If your tour of Morocco takes you here, you might as well enjoy it! This is also a cheap place to fly in and out.
Things to Do: The reason people come to Agadir is the beach. It's one of the best beaches in Morocco. It can be crowded with package tourists, however. The Europeans love this place, and spend a week or two here. Also if you leave the confines of your special beach enclave, you'll be approached by vendors. If you're tired of the beach, the best thing to do is take an excursion elsewhere.
Sights: The only historic site in town is the Kasbah on a hill with a great view of the new city. The port is only worth visiting for a cheap seafood meal.
Shopping: There's a lot of shops in Agadir geared for the tourist. The salesmen are very aggressive, the prices here are high to outrageous, and the quality varies. We don't recommend you make any major purchases here, just beachwear and sunscreen if you must. The best place to shop for inexpensive handicrafts, some groceries and alcohol is the Uniprix in the Moroccan section of town. Nearby is the Crown English Bookshop with a small selection of books.
Food: Fortunately there is a wide selection of food available in Agadir to please those demanding European taste buds. Unfortunately the quality does vary a bit. The big strip of European style restaurants on Blvd. de 20 Aout is popular in the evening and this is the center of Agadir's nightlife. Many of the restaurants have live music or karaoke. For a splurge we recommend La Tour de Paris on Ave. Hassan II, for nouvelle cuisine or traditional French dishes. If this is a bit too expensive you could sample the wonderful glacier (ice cream store), next to it. You won't go hungry in Agadir, and the standard of cleanliness is much higher than elsewhere in Morocco, but this is still Morocco so beware.
Accomodation: There is generally a higher standard of accomdation in Agadir thanks to all the package tourism. If you plan an extended stay here we recommend you visit the offices of Holland International. They can set you up in one of their hotels or apartments for far less than if you walked up to the front desk. We saved about 35%! They can also book hotels in other cities and excursions. If you're coming via Europe, you could book your flight in and out of Agadir and save a bundle! We tried to get those low fares one way back to Europe and found out it couldn't be done, much to our dismay. A two week package including hotel and airfare from Amsterdam was less than just a one-way ticket!
Getting Around: Most hotels are within walking distance of the beach. If you need to go to the Moroccan part of town, taxis are cheap and plentiful. You can get a taxi to the Kasbah to enjoy the fine view over town.
All images, artwork and content
Copyright 1999, Hip Inc.