Postcards from

Here are some postcards with photos we might have sent you from Morocco
Azila Village in the Rif Mountains
The Rif Mountains are home to the Berber people. It is also the center of hashish production in Morocco. For more info, see our Kif in the Rif story. Azila, near Ketama is situated in a beautiful valley, at the foot of Mt.Tidiquin, the tallest mountain in the Rif. Here the locals keep busy all year working their terraced slopes, and the kif. In this section of Morocco, they speak either Berber, Arabic or Spanish.
The Casbah at Chefchaouen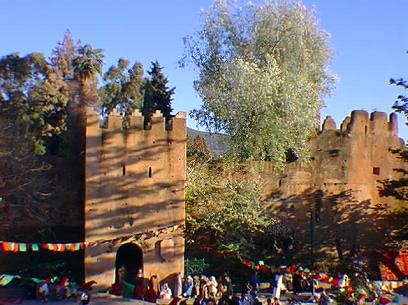 Chefchaouen is a very friendly, laid back town in the Rif Mountains. It's small enough, you can walk around the town in a few hours. The attractive medina is done up Andalusian style with bright shades of blue. The Casbah (photo) has a small museum and is surrounded by shops and cafes. The town has an excellent fresh water spring, but the cuisine is strictly Moroccan.
El Fna Market, Marrrkech
Marrakech is a place out of time, an exotic taste of something strangely ancient. Camels and cobras compete with taxis and touts for your dirhams. Smelly smog and spicy souks fight for nasal supremacy. In a city where everything is for sale, there are few bargains. Ancient caravans have been transformed into modern malaise. Trying to rise above the incessant din, a tiny voice whispers from somewhere within, "This is like no place you've ever been."
Blue Gate, Fez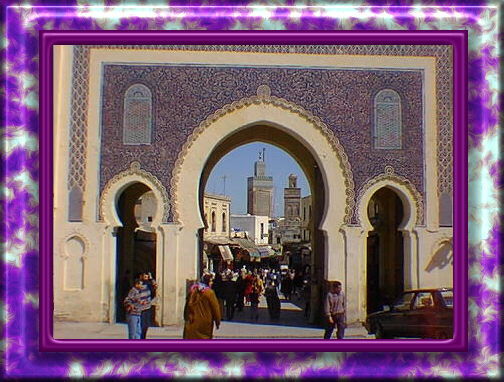 Fez has the largest medina in Morocco, and it's been declared a World Heritage Site by the U.N.. No motorized vehicles are allowed in the maze of alleyways. You could easily get lost without a guide. We had a fantastic Moroccan meal amidst the splendor of a former Palace. Fez is reknown for its carpets, schools, shopping and grand history.
Fishing Boats, Essaouira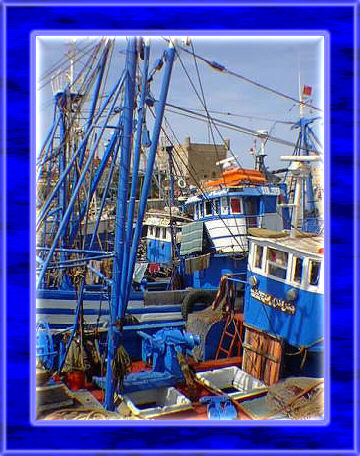 Essaouira is a delightful seaside town with a huge beach, great seafood, a clean medina and friendly people. The slow pace is a relief after the chaos of Marrakech. It's also cooler here by the coast. Jimi Hendrix and Bob Marley found it a groovy place to hang out!
View over Agadir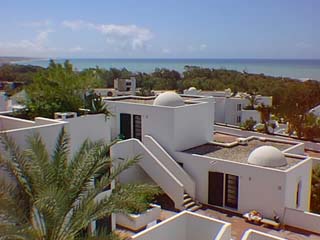 Agadir is primarily a tourist destination for northern Europeans. Rebuilt in the 60s after a major earthquake, the resorts are modern and clean. The main atttraction is a fine sandy beach and good weather year round. You might as well be on the Costa del Sol, for Morocco this ain't!
We stayed in the Casbah, an old palace with a fabulous tropical garden. I got a good deal on a flying carpet here. This town is considered the grandmother of Marrakech. The entire city lies within these walls. Taroudant is also famous for its silver work. The people are friendly and the pace is relaxed. Too bad we can't stay another day. Off to Ouarzazate and the Sahara!
Ouarzazate lies at the foot of the Atlas Mountains on the way to the Sahara desert. It is the last provisioning town for expeditions. These children are standing in front of the Casbah. Ouarzazte has some shops and a nice little French restaurant, but not much else. Just outside town however, is a famous film studio, and it's open to the public. Lawrence of Arabia was filmed there.
Zagora
The road from Ouarzazate to Zagora is sprinkled with ancient, crumbling Ksars or Casbahs that acted as forts, hotels and provisioners for caravans. Zagora is the last outpost before the sands of the Sahara. We got to play in some sand dunes, chatted with some "blue men" - the Tuareg people of the Sahara. Beyond that point it's strictly four-wheel drive or camels.
Asilah, a small seaside town, south of Tangier, is peaceful, clean and friendly. It hosts the International Festival of Asilah, an art festival every year. But the best part is Paradise Beach, a few kilometers away. Ex-pat writers and artists enjoy living here. The climate is fine all year, too!
Tangier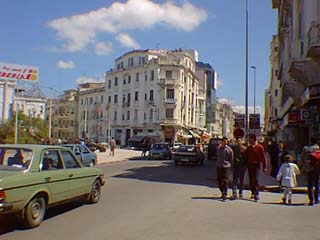 A picturesque port city on the Mediterranean, it's mostly a day stop for tourists on ferries from Spain. Tangier is famed as an expat writer colony, but its glory has faded in recent times. Today it no longer boasts such an international crowd. We found it to be a hassle due to aggressive guides we couldn't shake.
All artwork and content copyright 1999, Hip Inc.