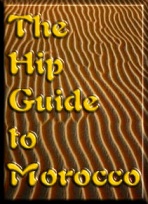 Book Marrakech Hotels Online!
Marrakech, the legendary city lying at the foot of the Atlas Mountains, is famous for it's souks (markets) where you can buy just about anything. Once a crossroads for caravans coming out of the Sahara Desert, Marrakech is a spicy mixture of Arab, African and European influences. Crowded, chaotic, noisy, smelly, dirty, but at times enchanting, this extraordinary city lures travelers from all over the world. From the exotic Djemaa El Fna square where snake charmers vie with fortune tellers for your attention to the exclusive pleasures of the Mamounia Hotel, Marrakech has something for everyone. But be prepared, the intensity of this town will leave you exhausted, in need of a quiet retreat. Make your stay in Marrakech a short one, and get out and explore the surrounding regions and taste the more relaxing Morocco.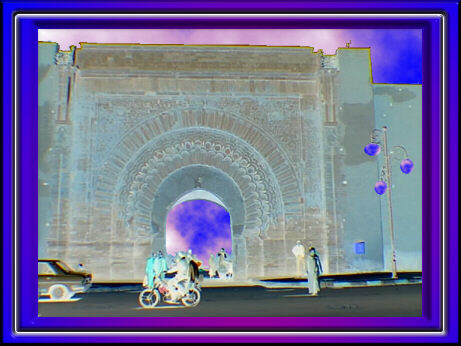 Bab Agnaou - Gate of the Blacks,
the entrance to Marrakech's Kasbah
We took the Marrakech Express from Fez, eight hours of beautiful scenery passed by our first-class cabin windows on the train. Our private cabin, with space for six, was piled high with all our baggage. At $20 US per person, it was a bargain, considering the long journey. The trip took us to the coast of Morocco at Rabat, then down to Casablanca before turning inland towards Marrakech. It was a pleasant experience, with frequent visits to the end of the car (and the end of the train) to smoke sipsis of hash and enjoy the scenery. We had the foresight to bring enough provisions, including drinks, so the day passed just fine.
Marrakech is huge, with over 500,000 people. It's the dirtiest place we'd seen since Ketama, and noisy as well. Upon arrival we scurried straight through the incredible madness of the Marrakech Train Station and got a taxi to take us directly to our hotel.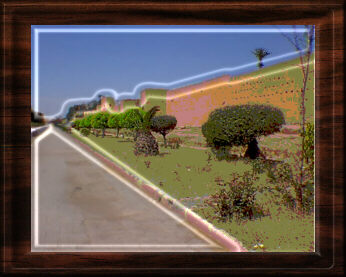 Pisé walls of Marrakech

The 16 km red wall surrounding the old city includes 20 gates and 200 towers. It's possible to tour the walls on a horse drawn cart or calèche.
We'd picked this hotel out from our travel book and were willing to stay one night while we oriented ourselves. It was okay for that purpose, but a huge cockroach was waiting to greet us when we got to our room. The bellboy sort of tried feebly to block our view of it while he got us in there, and then quickly made his escape.
The next day we found another place right in town near Djemaa El Fna Square, so we moved again as we were hoping to stay at least a week in Marrakech. As we arrived by taxi at the Hotel Grand Tazi, I wondered why this place was so highly recommended. The hand carved plaster in the sadly faded lobby was a nice touch; but the incredible hubbub surrounding the front desk with its five managers all arguing at the same time was quite the scene. They offered us a smelly room on the street, which we declined, opting instead for a nicer, quieter one on the back side.
The room had much needed air-conditioning and a TV with five channels, all in Arabic and/or French. The attractive, hand painted decorative scrollwork on all the wood in the room is traditional Moroccan graphic art. The other features of this hotel are a swimming pool with comfortable lounge chairs and umbrellas for the fair skinned, and a rooftop terrace the size of a soccer field, great for watching the sunset. The restaurant is truly awful and should be avoided at all times. Don't let them charge you for breakfast as part of your hotel stay, as this is THE classic example of a one star restaurant.
One morning at the Grand Tazi I opened the window to let in some fresh morning air before the smog set in and was greeted by an awful smell. I looked down upon the window sill and sitting there were numerous large drops of brown liquid, now drying. I immediately figured out what it was, but it was a mystery as to how it came to be on the window sill. I closed the window tightly and left the room gagging. Later, on a visit to the roof, I discovered the source of the smell. It seems the floor above us, the roof, has some small rooms without toilet facilities. Either the staff or some real budget travelers use these rooms. I guess at night after you've eaten in a one star restaurant, you don't have time to make it down the stairs to a proper facility. Fortunately the staff quickly removed the evidence.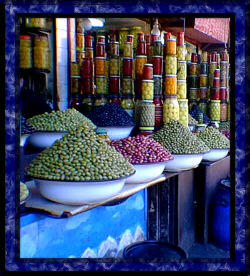 Olive Store

Hope you like olives, green, black, red, with garlic or herbs, hot or sour, marinated in wine. You'll find quite a selection everywhere in Morocco, but especially in the Marrakech souk. They're served with every meal, either as an appetizer or with your main course. No wonder olives are one of Morocco's main exports.
The city of Marrakech is the soul-center of Morocco, and the country's name is derived from the city's, or so they say. Marrakech is built on an oasis, with a huge date palm grove surrounding it. In the distance you can see the Atlas Mountains, which are filled with ancient Berber villages and Kasbahs.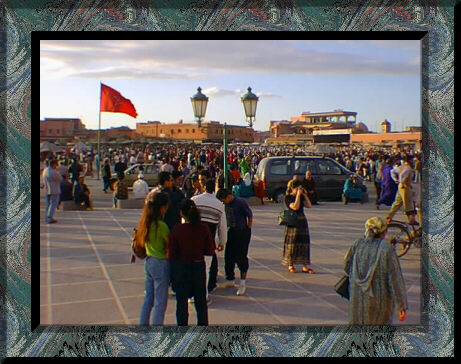 Djemaa El Fna
This square attracts foreign and Moroccan tourists alike. Snake charmers, jugglers, fortune tellers, food stalls, and much more make this the most lively place in the city. Much of the surrounding area is undergoing renovation, making it more attractive. Just beyond El Fna lies the maze of souks where you can buy most anything from Morocco, the Sahara, Africa, and Europe.
The best things to see in Marrakech are the rooftop cafes to be found around the city; the swank Ammonia Hotel with its $43 US lunch buffet by the pool; the Sedan Tombs and an assortment of dusty old palaces. El Fna Square is an important place to visit with its never-ending drama cycle of life and death on a daily revolving timetable. El Fan is a spiritual center of Marrakech, and it is definitely the center for commerce, tourism, and snake charmers. The mad whirl of activity runs 24 hours a day and never seems to stop.
The souks of the nearby medina are filthy, somewhat disappointing and wearisome. There are many overly aggressive merchants who would sell you anything, and bargain all day long. One young man followed us through several souks, for half an hour trying to sell us a vest I had tried on. He just wouldn't take no for an answer. Marrakech is not the place to shop if you are able to visit the much more laid-back medinas in Chefchaouen, Essaouira or Fez.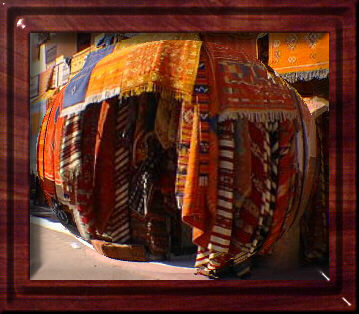 Shop in the Carpet Souk

Beware of guides when you enter the souk. (See our warning). We recommend only official guides to tour any city in Morocco. The Marrakech souk is equaled only by the one in Fez for size and variety of goods available. But don't expect any bargains. As a foreign tourist you won't pay Moroccan prices, but do bargain as best as you can! If you are going to a region famous for something, wait until you get there to purchase. Not only will you get a better deal, but the experience is likely to be more relaxed.
The hassles in Marrakech never seem to end. For the most part, the food is dirty, inedible and overpriced for Morocco. I hate to admit it, but Pizza Hut was a welcome treat! We were also lucky to find a wonderful new patisserie on a pedestrian side street off El Fna Square that leads to the Hotel Grand Tazi. There is also a laundry on this street, but unless you like having your clothes dried over a eucalyptus wood fire, avoid it. The scent of smoke clings to your clothes for several washings afterwards!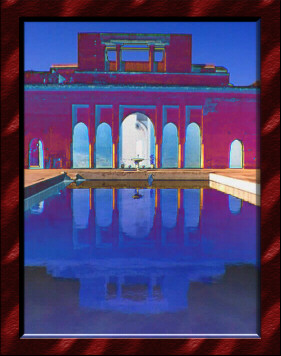 El Badi Palace
Built in the 16th century, this ruined palace still echoes the splendor of the Saadian Kings.
Our hotel, The Grand Tazi, had an amusing arrangement of bathroom facilities; with the toilet opposite, and facing the bidet. This became useful when we were plagued with our third bout of dysentery while visiting Marrakech. It seems you can let your bowels rip on the toilet while puking into the bidet at the same time! Those clever Moroccans always amaze me with their ingenuity.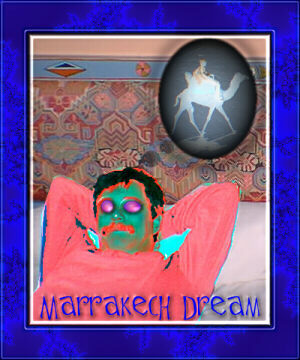 Marrakech is one of those rare places that take you out of your world into another time and state of mind. There is an intense vibrancy to the city. Centuries of commerce at the crossroads of North African trade routes have given Marrakech a unique identity. It's possible to lose your own sense of identity among its teaming streets. Enjoy this feeling because some day it will all seem like some exotic dream.
After enduring a week of dirt, noise, bad food and incredibly bad air, we decided it was time for a vacation by the sea. So we set off on a bus ride from hell, to Essaouira, where Jimmy Hendrix and others from that era used to hang out.
We returned to Marrakech after our journey to the Sahara Desert. The second visit was far more pleasant as we stayed in the modern Menara Hotel, and had learned what to avoid on our first trip.

Marrakech Tips
There is no place like Marrakech! For Morocco it is intensely hyperactive. There is much to see and do here, but it can be exhausting. The city is noisy and smoggy. Pace yourself and plan on a short stay unless you are going the luxury route.
Things to Do: Djemaa El Fna square is the starting point to explore the souks of Marrakech. The square is usually filled with tourists being entertained by snake charmers, jugglers, dancers, fortune tellers, musicians and more. You can view the show from several restaurants overlooking the square.
Sights: The 16 km of ancient ramparts surrounding the old city are truly beautiful. The Kotubia mosque can be seen from all over the city. The El Badi Palace, now a peaceful ruin is pleasant to visit.
Shopping: You can buy just about anything in the Marrakech Medina. But don't expect bargains from these seasoned shopkeepers. They'll have a special price for you!
Food: Food varies from the cheap and risky at Djemaa El Fna's open stalls to expensive and elegant at La Mamounia Hotel. Be careful what you eat and remember, there's always Pizza Hut.
Accommodation: Like the food, Hotels vary considerably. Avoid the older more rundown places and make sure you get good air conditioning. The Hotel Menara is a good value and has balconies to take advantage of the great view.
Getting Around: For trips around town, the petit taxis are inexpensive, 5-10 dirhams (50¢ to $1). If the meter isn't working, negotiate a price. Don't let the drivers rip you off, they'll ask for 20 or 30! Calèches (horse drawn carriages) are a fun way to explore the old city.
All images, artwork and content
Copyright 1999, Hip Inc.