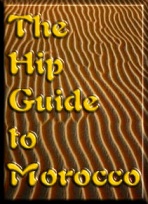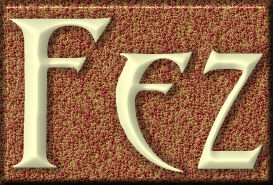 Book Fez Hotels Online!
Fez is considered the spiritual, cultural and intellectual capital of Morocco. Its historic importance is found in many ancient monuments. It's worth spending a few days here visiting the attractions of the medina and the Ville Nouvelle.

From Chefchaouen we took the bus to Fez. The ride was okay, but a bit bouncy in the back of the bus. As the bus rolled along, a video played on two monitors, featuring a belly dancing singer with traditional Moroccan music. After three and a half hours, her whiny voice and plump figure became unbearable. We actually looked forward to the prayer breaks when they blasted "Allah Akbar" so loud the prophet could've heard it in Mecca. Fortunately, the air-conditioning worked well, and the seats were comfortable. We were impressed with the service the CTM bus lines provide in Morocco.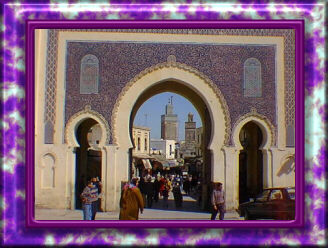 The Blue Gate of Fez
We found the Hotel Splendid upon arrival in Fez, and settled in immediately. The man at the front desk offered to arrange a guide for the following day. No sooner had we had a hit on the sipsi, then we got a phone call from the guide. We agreed to meet at 10am the following morning. On our way out to dinner, we thanked the desk clerk telling him we would meet the guide at 10, and he became very upset. It seems that the person who called us was NOT the guide he had arranged. In fact his guide was waiting outside to meet us and soon an argument ensued. Turns out someone else in the hotel had called a guide to say we had arrived and now everyone wanted to be our guide. Fortunately, the man in front of us, Rashid, an "official guide", was not only eager, but he spoke far better English than the stranger on the phone. Rashid assured us he would deal with the other guide when he showed up in the morning.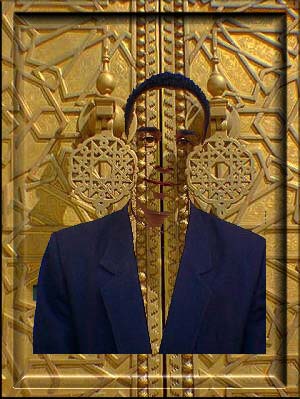 Our Official Guide, Rashid and Palace Gates
A university student, Rashid is typical of the educated populace in Fez. He is a language major and said he is doing a field study of the special lingo unique to the hashish smokers. Guess that's why he was meant to be our guide!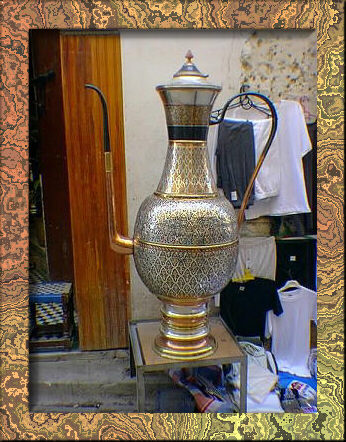 Beautiful Farsi Metal Work
The Fez medina has been declared a World Heritage Site by the United Nations. This means ongoing efforts are being made to preserve it in its present state and to encourage a return to some of its former uses, such as residential. We went from one end of the medina to the other, but we barely scratched the surface. The Fez medina is Morocco's largest, some 2,700 acres.
The medina is closed to motorized traffic, so donkey carts are widely used to ferry goods around. This means you must watch where you walk. It's best to take a guide along as its easy to get lost in such a big marketplace.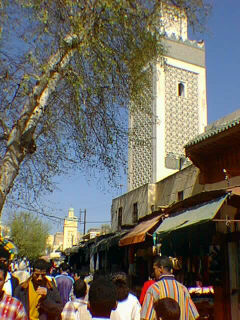 One of Many Mosques in the Fez medina
Fez is Morocco's spiritual and cultural center. Once a year, Fez is host to the Fez Festival of World Sacred Music which attracts ethnic musicians from all over the world. There are many famous Islamic schools located in the Medina. We saw some of the major sites including the famous mosques and all the shops and vendors in between. We had a fabulous lunch at the Grand Vizier's Palace. The Palace is an elegant restaurant with an attached carpet museum. You can buy a carpet then have a feast. The restaurant was packed with tourists and their guides, (otherwise they couldn't have found it). We pigged out on a meal which included nine different salads, all yummy, and a great Tagine. The coup de grace was Pastilla (the famed Moroccan pigeon pie). The desert was a light, crispy almond pastry. This was by far our best Moroccan meal.
Afterwards we toured the rug museum which featured an extraordinary selection of carpets old and new from all over Morocco. This was a low pressure place, and we made it clear we weren't buying, just looking. We learned a lot about the different kinds of carpets available in Morocco.
It was a good thing Rashid waited until after lunch to show us the Tannery. Our visit there caused us to lose our appetites for the rest of the day. The Tannery was the most revolting place I have ever been. The sight and smell of stacks of rotting carcasses were quite disgusting, especially for one who avoids eating meat. We tried not to gag as our guide explained that the skins are first treated with pigeon shit to toughen them up. You can thank us for sparing you the visuals at this point.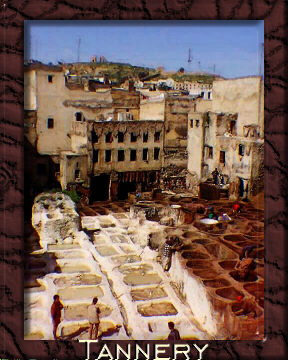 A more fun thing to do in Fez is to visit the spice merchants and stock up on essentials. Those things you need like ground red pepper, ground cumin, and a bag of 45 mixed spices for that truly Moroccan food experience. What a great day, with lots of sights, sounds and smells to remember it by!
The next day we finally made it to the Cyber Café at the Sheraton, only a block away from our hotel. We availed ourselves of its grand buffet, which proved a great relief after two weeks of nothing but Tagine and Couscous. It also was a wonderful technological breath of fresh air in Morocco. We were able to bring in our own laptop and hook up to the net, way cool! It sure was good to read some e-mail from home.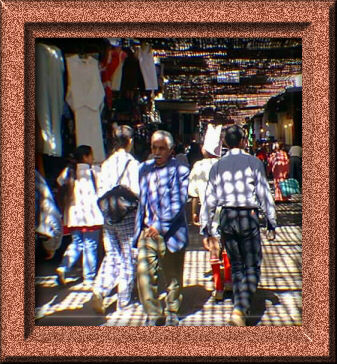 The Fez Medina
Fez is also blessed with a great spot for petit dejeuner on the Avenue Hassan II. Also in Fez is an Italian place, Chez Vittorio, with wood oven fired pizzas and decent pasta dishes! Fez turned out to be a delighful change, after the wilds of Ketama and the sad food of Chefchaouen.
Unfortunately, the Moroccan food from Chefchaouen finally caught up with us while we were in Fez. I got to find out just how many times you can visit a bathroom in a day. In fact I devoted one day entirely to that task. Fortunately, the pharmacies in Fez are well stocked with the necessary items, no prescription needed! I was soon to become an Imodium devotee.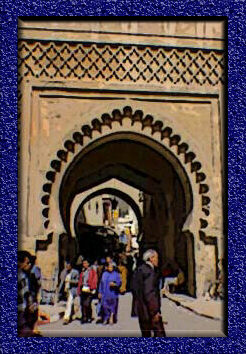 Medina Gate
Of note: Fez was the locale the band U2 used for the filming of the video "Mysterious Ways". Fez was also the backdrop for Indiana Jones' Raiders of the Lost Ark. Fez is a beautiful, picturesque and friendly city with prosperous inhabitants. A fine place to visit in Morocco. Our next stop is Marrakech!

Fez Tips
Surprisingly, few tourists spend enough time in Fez to really explore its attractions. If you have the time, it's worth spending several days in this fascinating city. Unfortunately the city can be hot and smoggy.
Things to Do: Fez El Bali, the largest medina in Morocco requires a guide to navigate. An official guide can be arranged at your hotel. In fact they'll probably be in your face about it. Plan on spending a day seeing the sights and shopping.
Sights: In the Medina there are many beautiful mosques, which only the faithful can enter, and some famous Islamic schools. Over the centuries, Fez has hosted a sizable Jewish community and the cemetery there is a place of pilgrimage for Jews around the world. Besides the Medina, you can explore the Ville Nouvelle, the French built city. You can get a good view of Fez from several hills around the town.
Shopping: Fez is noted for their quality craftsmanship, particularly evident in their carpets, perhaps the most beautiful in Morocco. There's also a great selection of fine metalwork in Fez.
Food: Fez is a great place to splurge on quality Moroccan food. Try one of the restored palaces in the Medina. Fez also has a reasonable selection of European type restaurants. We particularly enjoyed Chez Vittorio. Breakfast Fez style (petit dejeuner) can be had at any number of cafes in the Ville Nouvelle. If you've already had Moroccan food up to here, the Sheraton buffet can set you right again.
Accommodation: There's a wide range of hotels in Fez from the cheap to the five star. Choose one better than usual for a splurge, since Fez hotels are a bargain.
Getting Around: Taxis are cheap and plentiful in Fez. Make sure they have the meter running. If you're visiting the medina, be sure to wear comfortable shoes as you will walk a long way.
All images, artwork and content
Copyright 1999, Hip Inc.