Zuiderkerk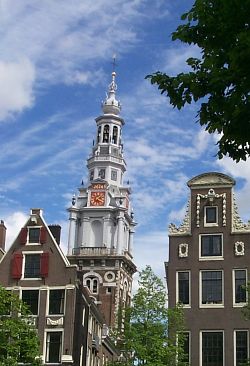 The Zuiderkerk (Southern Church), designed by the famous architect, Hendrick de Keyser, was finished in 1611, with the beautiful tower completed in 1614. It was the first Calvist church in Amsterdam. Major reconstruction was done during 1976-1979.
Nowadays the Zuiderkerk hosts the City of Amsterdam's planning and housing information center. Here you can find out about city projects including housing, urban renewal, transportation and the environment. You can read about the many municipal regulations including the "'bestemmingsplans". It's also a good place to get the lowdown on new housing being built for sale or rent in Amsterdam.
The Zuiderkerk was used as a temporary depot for corpses, during the last winter of WWII (1944-1945) when thousands of Amsterdammers were dying of hunger faster than they could be buried. There's a plaque near the main entrance commemorating this awful time.
The Zuiderkerk, is now "deconsecrated" and the new floor hides the grave markers from the old church floor below. Richard Clyfton, one of the founding English Pilgrims is buried there.
Tours of the Zuiderkerk tower are offered from June to September, Wedenesdays to Saturdays from 2pm to 4pm. It takes 45 minues and costs about 2 Euros. Use the side entrance on Zandstraat.
Metro: Nieuwmarkt
Tram 9, 14 and 20 (Waterlooplein stop)
Open: Monday 11am to 4pm
Tuesday to Friday 9am to 4pm
on Thursdays till 8pm
Free admission.
Contact:
De Zuiderkerk
Zuiderkerkhof 72
1011 WB Amsterdam
phone: +31 (0)20 552 7987
fax: +31 (0)20 552 7988