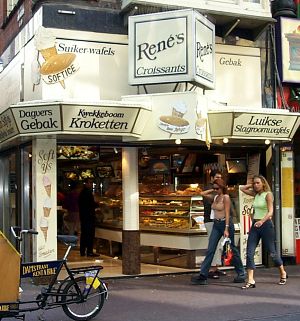 Renee's impressed me in the past because they WERE so amazingly consistent, but since the euro change they have become frighteningly expensive.
Recently we have had numerous complaints from readers about the rudeness of the staff, and the ever-increasing prices. Also we have been short-changed by their staff on several occassions. It seems they have new people working there almost daily. This is why their rating has dropped from 5 stars.
Unless the management of Renee's starts to change things soon, WE RECOMMEND YOU AVOID THIS PLACE!
The following comments are from our original review written over a year ago.
Renee's Croissants is delightfully "lekker," with an assortment of pastries, bonbons, soft ice, sandwiches, donuts, pies and more.
No trip down the Damstraat is complete without a visit to Renee's. They offer a delightful assortment of goodies. Who can resist such offerings as hearty bran muffins with raisins and nuts, their fabulously crusty baguettes, and of course, chocolate muffins.
Renee's has seasonal offerings, some typically Dutch, that are best sampled from here. Appleflaps, in season, are a great example. I've never had a bad one yet from Renee's – with just the right amount of filling so that it doesn't gush out at first bite, and a smattering of sugar crystals on the flakiest pastry crust you'll ever enjoy.
I could go on for hours describing every pastry they make, but I also want to mention their sandwiches. Their "belegede broodjes" are made with the usual ingredients, all freshly laid out for you to choose from, and with great breads or bagels to enclose the fillings. If they aren't too busy (an unusual occurrence at times) they will make you a sandwich on the spot with fresh bread and whatever you want in it.
I've enjoyed many a great sandwich from Renee's, while exploring Amsterdam.
I've also delighted lots of friends with a gift of pastries or bonbons from Renee's.
Open seven days a week, and late at night; it's a great place to stop after touring the town on the way home for a late-night snack.