Hip Guide to Poland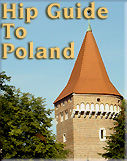 One of the recent countries to join the European Union, Poland is undergoing a huge transformation, now that it has thrown off decades of communist programming. From it's medieval city centers to modern skyscrapers and vast countryside, the new Poland has so much to offer the visitor. Whether you come for a historical tour, a religious pilgrimage, or a taste of Polish culture, you will find a warm welcome in Poland. The Hip Guide to Poland offers highlights of the country, and contains many tips for making your stay here more rewarding.
The Hip Guide is Poland's most complete and up-to-date source for hotel reservations, tourist information, events, reviews, shopping and much more! Don't forget to visit our Poland Photo Gallery! Bookmark this site, and visit whenever you need to find out what's happening in Poland.

THIS SITE IS INTERACTIVE! You can participate by adding your own reviews, comments and stories. Don't forget to tell your friends about us!