PK's Jungle Village
Cape Tribulation has been a popular backpacker destination for decades. During this time PK's Jungle Village has serviced their needs in this remote outpost where the rainforest meets the beach. With a superb location right on Myall Beach, PK's is a choice spot for your stay in Cape Tribulation.


Young international travelers still flock to PKs, enjoying the youth hostel feel of the place. But now older travelers, like myself, who spent a few nights here in the early 1980s, find the same youthful feeling returning again. Fortunately, we can now stay in PK's new ensuite airconditioned cabins, rather than roughing it with the kids in dorms with bunk beds or staying in PK's campground.


PK's is a world unto itself, with a popular restaurant (buffet), it's famous Jungle Bar, IGA supermarket, ATM, communal kitchen, pool, Internet access, even a pharmacy. The expanded range of accomodation now suits all budgets and requirements. The new ac cabins are located closest to the beach and are about as good as can be found at the Cape, yet not expensive.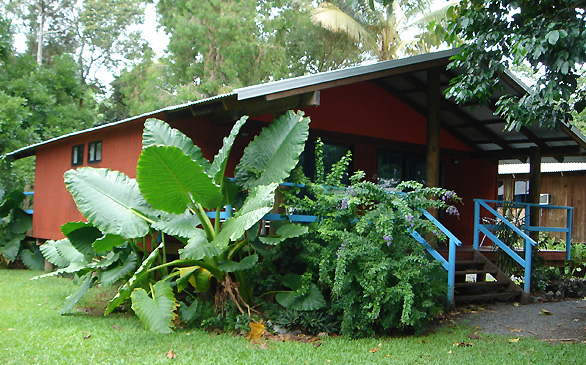 New AC Cabins at PK's

The resort's jungle setting provides an appropriate ambiance for the area. Tropical plants like ginger, banana, palms and colorful flowers surround you with lush vegetation. A interesting boardwalk takes you to the beach through a mangrove forest.


The young, friendly staff at Pk's are very helpful and can arrange bookings for activities like scuba diving, horseback riding, rainforest walks or four-wheel drive adventures.


So if you're looking to make some new friends and stay in one of the coolest places along Queensland's coast, PK's is just the ticket.
Click here for more Australia hotel and accomodation information.