Unfortunately this bookstore has been closed permanently, a historical post for posterity.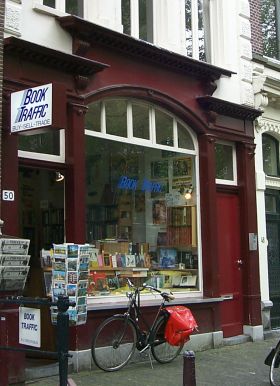 The first time I visited Book Traffic (it had another name back then), I scored a great book about the 1960s that I used as a reference in writing my own book. Low and behold, a recent visit and I scored another great one from the 60s, that I wished I had before.
I love browsing through their science fiction section because they have so many books to choose from, and since they're used, the price is right! They also have lots of other subjects including art and photography, philosophy and spirituality, etc. Plan on spending some time there on your first visit getting acquainted with the selection and the people who work there.
They also have books in Dutch (of course!), and they're open on Sunday. Nice place to stop if you're in the area or walking through the Jordaan.
Hours: Monday – Friday 10am-6pm
Saturday 11am-6pm
Sunday 12pm-5pm
Leliegracht 50
Amsterdam 1015
Phone: 020-620-4690