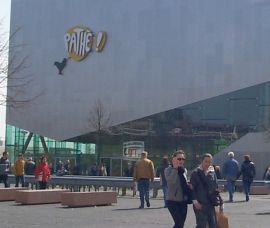 I recently visited the Pathe Arena theaters to see a new movie (Goldmember) on the day of its release in the Netherlands. As usual, I went during a weekday afternoon. Why? Because not only did I get a nice discount, but the theater was almost empty (like about 8 people in the biggest theater!). I like that!
The seats are ever so comfy here. The red ones in the largest theater are well-padded and wide, with wide arm rests and lots of legroom. No more cramming your legs against the seat in front!
The sound system was awesome, but didn't seem to work 100% with the movie I came to see, perhaps because it wasn't filmed in a compatible mode. I counted at least 30 speakers that I could see.
I really like coming here for the reasons I've mentioned, and I would come here more often, if they didn't only show the latest Hollywood-hyped, factory-made movies. What's wrong with screening something alternative once in awhile? Well there's certainly no shortage of theaters in Amsterdam showing non-mainstream films. See our article on Amsterdam Movie Theaters for more tips on movie venues.
The only other gripe I have is that the popcorn we got in the afternoon was stale (and encrusted with salt) from the night before. Someone should be shot for doing this. Stale, overly salty popcorn is inexcusable. Let your employees take it home at the end of the night instead, please!
I've seen movies in the smaller theaters at the Arena, and they're all top quality, and airconditioned. Plus there's no smoking, and usually no pause in the middle of the feature.
Amsterdam Arena Shopping Mall
Amsterdam
Phone: