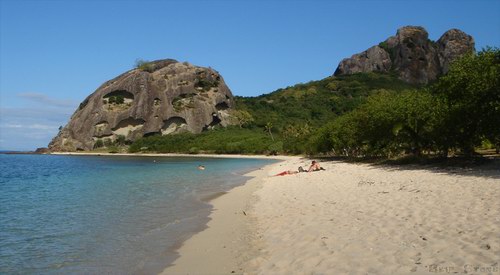 Kuata Island
Fiji consists of over 300 islands and coral atolls spread out over a vast area of the Pacific. The big decision facing visitors to Fiji is which islands to visit. For many the choice is easy, as the Yasawa Islands are easily accessible from Nadi and offer a wide range of accomodation.
Fiji Greeting
The Yasawa Islands provide a more authentic Fijian experience as you will usually stay in a resort run by local families, sometimes in the middle of their island village. They will feed you exactly what they eat, which is usually food grown locally on the island or fished from the sea surrounding it. You can watch the locals go about their daily chores, go fishing with them, let them entertain you with dancing and singing, and of course partake in the famous Kava ceremonies.
A big, fast catamaran shuttles visitors from Denarau Island (near Nadi) to the Yasawa Islands. It's a 4 hour trip to the most remote, northern islands, but most people jump off at one of the many enticing resorts along the way.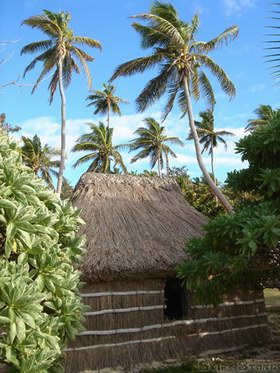 Typical Fiji Bure
If you're a backpacker, the Yasawa Islands are heaven. There are more than a dozen resorts that cater to backpackers. You can rent a traditional bure for two for F$100 a day (about US$65), a basic accomodation which includes three meals. If that's a bit steep, you can stay in a dorm room for F$25 to F$35, with the meals included. That's a bargain!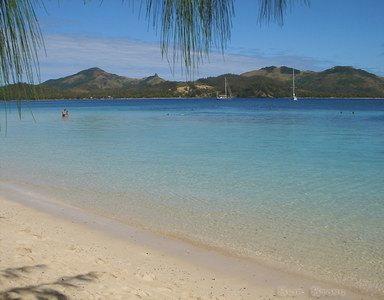 The Blue Lagoon
If you've got more of a budget you can stay in a range of more upscale resorts including five star Turtle Island on the Blue Lagoon. These places will pamper you with excellent food and accomodation, access to watersports equipment, and some of the finest scenery on the planet.
If you like you can take a cruise ship thru the Yasawas, dropping anchor in some beautiful lagoons. The advantage is that you don't need to pack and unpack everytime you change location.
Indeed most visitors to the Yasawas try at least a couple of islands as they're all so different. The catamaran ferry comes through once a day and will take you to any of the resorts heading north or south.
The big problem is deciding amongst the islands, as many offer similar accomodation, especially for backpackers. I highly recommend a trip to the Blue Lagoon, one of the most distant destinations. It's so beautiful and there is the full range of accomodation available there.
Ideally you would have a week to explore the Yasawas, stopping in at least two places if not three. If you have less time available, you should probably only visit one or two islands, so you can get more out of your stay.
Backpackers and adventurers should pickup the big brochure about the Yasawas which offers a multitude of options packages. If after perusing that brochure, you're still unable to decide, you can just opt for the 8 day ferry ticket, and decide along the way. We do recommend you book at least one night in advance, as many places fill up early, and to make a reservation a call must be made to the island first. So most visitors arriving in Nadi must stay overnight so they can book their island tour before they leave.
Any hotel/resort in Nadi can help you book your island tour, and they will politely remind you that they provide this service. They get a commission, and they can get upset if you book outside your hotel, but don't let that stop you if they can't answer all your questions.