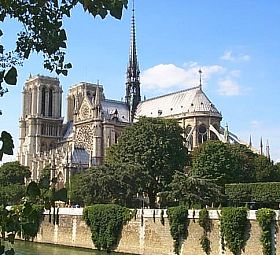 The legendary Notre Dame Cathedral sits on the right bank of the Seine River where even 2000 years ago it was a religious site. Construction began in 1163, and it was finally completed in 1345. It was badly defaced during and after the French Revolution when it was used as a warehouse.
A major restoration on the Cathedral was begun in 1841 after the publication of Victor Hugo's "The Hunchback of Notre Dame". Today the cathedral is undergoing a face lift, with centuries of grime being removed from the exterior, revealing a light beige stonework.
The immense gothic Cathedral can hold 6,500 worshippers, under the roof, which is 115ft (35 meters) high. The dark, enormous interior space is overwhelming.
The huge flying buttresses on the exterior were added in the 13th century to allow for bigger windows to let more light in. Some of the beautiful stained glass windows date back to that time. Evil looking gargoyles adorn the water spouts around the building.
Despite the huge numbers of tourists who visit the Cathedral, it makes for an interesting experience. You can get excellent views of Notre Dame from across the Seine river, and from the north tower (387 steps!) you can see up and down the river and over much of Paris.
Hours: Cathedral 8am-7pm Towers 9:30am-7:30pm
(Oct.-Mar. 10am-5pm).
Cost: Cathedral free entrance, Tower & Crypt €5.35
Phone: 01 42 34 56 10
Metro: Cité
Bus: 21,24,27,38,47,85,96