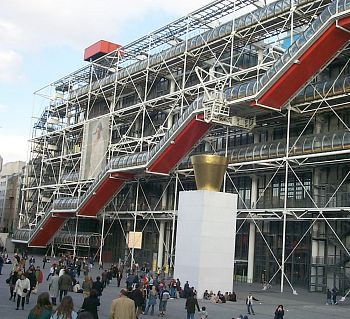 Pompidou Center also called Centre Beaubourg, was completed in 1977. This imposing structure got off to a very controversial start (not unlike the Eiffel Tower), with many critics protesting the clash between the modernist/industrial design and the surrounding classical Parisian architecture.
To allow for more unobstructed exhibition space, Pompidou Center's utilities were put on the outside. The façade makes the building look like an oil refinery or a power plant. Things like airconditioning ducts and plumbing snake around the outside of the building, and their color-coded conduits indicate the various building functions they perform.
Recent renovations have improved the exhibition space including the National Museum of Modern Art which specializes in 20th century artists including the Dadists like Man Ray, Surrealists like Dalí, Cubists like Picasso and their contemporaries. This museum has one of the best collections in the world, and a must for anyone interested in Modern Art.
Also in the building are a very popular public library that's open late, and IRCAM, the Institute for Acoustic and Musical Research. There's an excellent view from the sixth floor, where Georges Restaurant serves up splendid meals along with the view! (reservations recommended) Some interesting modern sculptures surround the center in several plazas that are good places to meet people and get your bearings.
Open 11am – 10pm everyday except Tuesday
Metro: Rambuteau
Exhibition Entrance: €8.54
Website: www.centrepompidou.fr