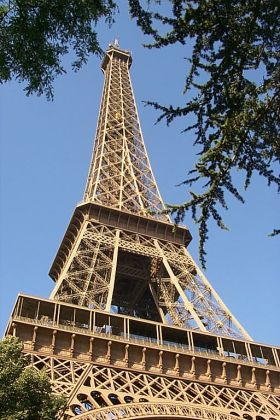 Perhaps the best loved monument in the world, the Eiffel Tower attracts millions of visitor each year. Built for the 1889 World's Fair, at 320 meters it towers above Paris and offers stunning views of the city below. For 40 years it was the world's tallest structure until New York's Chrysler building topped it in 1930.
Visitors can stop at any of three observation levels, 57 meters (€3.70), 115 meters (€6.90) and the big view at 276 meters (€9.90). The view at the top is worth every Euro, too.
On each platform are displays about the design, construction and history of the tower including Gustave Eiffel's office on the top platform. You can walk around 360 degrees to take in the view. Obviously it's best on nice, sunny days, but the views of sunset are awesome.
There's a cafe on the 1st level, and the Altitude 95 bar & restaurant for a more involved meal, but the real treat is the Jules Verne restaurant with it's own elevator to the 2nd level. Reservations are essential to dine in splendor there.
You'll also enjoy walking or having a picnic along the Champ de Mars which is dominated by the tower. More Info:
Hours: 9:30am – 11pm (9am – midnight during summer)
Phone: 01 44 11 23 23
Website: https://www.tour-eiffel.fr
RER: Champ de Mars
Metro: Bir Hakeim, Trocadero
Bus: 42, 69, 72, 82, 87