British Museum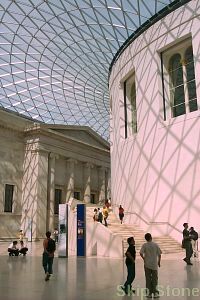 The British Museum is famous for it's excellent collection of ancient artifacts from the great civilizations of Egypt, Rome and Greece. A recent remodeling of the Great Court with a glass roof has turned the museum into an entrancing blend of architectural styles old and new. Like all the public museums in Britain, this one is free to enter.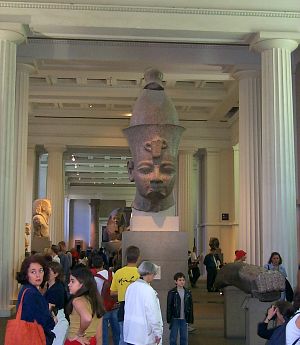 One of the highlights of the museum is the Egyptian collection spanning the major dynasties with some enormous sculptures of pharaohs' heads, mummies, sarcophagi, and other beautiful relics. This collection along with many others in the museum are controversial since the British pretty much stole this stuff while they were in control of these countries during the colonial period. Egypt and Greece in particular would like to get back some of these most important artifacts for which they were never adequately compensated.
The Greek collection includes some of the wonderful figures that once decorated the top of the Parthenon in Athens. The British claim they salvaged them after the Turks bombed the Acropolis, and there is some truth to this since the acid rain of the 20th century has damaged the Parthenon further. However the British have not taken proper care of these priceless treasures themselves, and it shows.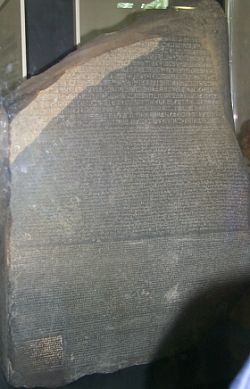 One of the truly amazing objects in the museum is the Rosetta Stone. This one stone which contains the same information written in several languages was the key to interpreting the various ancient forgotten languages.
Opening hours:
Saturday -Wednesday 10:00am – 5:30pm
Thursday – Friday 10:00am – 8:30pm
On Thursdays and Fridays selected galleries are open until 8:30pm. Check the schedule to find out which galleries will be open as it varies.
Great Court Opening Hours
Sunday – Wednesday 9:00am – 6:00pm
Thursday – Saturday 9:00am – 11:00pm
Round Reading Room
Saturday – Wednesday viewing area 10:00am – 3:30pm information centre 12:30pm – 5:30pm
Thursday – Friday viewing area 10:00am – 8:30pm information centre 12:30pm – 8:30pm
The Museum is closed Good Friday.
Website: https://www.thebritishmuseum.ac.uk/
Phone: Information Desk 0207 323 8299
FREE ADMISSION! Special exhibitions may charge a fee.