Museu Fundació Joan Miró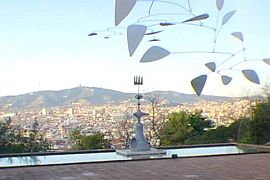 This wonderful museum displays more than 150 works by the noted surrealist/abstractionist, Joan Miró, including paintings and sculptures. The museum is itself a work of art and stands on a hill overlooking Barcelona, surrounded by beautiful views of the city.

Miró's works stand alongside those of his contemporaries and friends like Calder, Moore, and Max Ernst. The foundation also features temporary exhibitions and concerts.
This museum is a must for those who love abstract art!
Location: Avinguda Miramar 71, Parc de Montjuïc
08038 Barcelona
Phone: +(34) 93 329-1908
Fax: +(34) 93 329-8609
Open Tues,Wed,Fri,Sat – 10am-7pm
Thurs – 10am-9:30pm
Sun – 10am-2:30pm
Entrance adults: € 7.20 reduced rate: € 3.90
Website:https://www.bcn.fjmiro.es
Comments about Museu Fundació Joan Miró