Parc de la Ciutadella
Barcelona's Old Town grew around the features of La Rambla with it's wide avenue leading to the sea, the Barri Gotic with its winding streets, La Ribera and it's amazing mansions, and the Parc de la Ciutadella which features several huge, important museums of art and culture.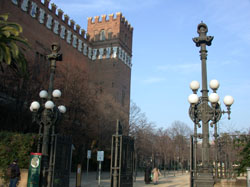 The Parc de la Ciutadella has a long and interesting history. Originally this was a fortress designed in the shape of a star, in 1715 by Prosper Verboom (possibly a Dutchman?) for then King Felipe V. The Citadel was built to be used by his forces against the Bourbon kings. Following an 18 month seige, the fortress fell, and eventually became a hated symbol of oppression for the local Catalunyans under the Napoleonic regime – as a prison.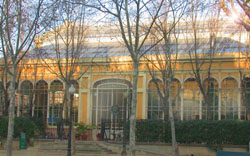 Located here in the Parc de la Ciutadella are not only beautiful gardens and greenhouses but also the National Zoo, the Museu d'Art Modern with its fine examples of Catalunyan artists of all media, the Arc del Triomf – originally the main gate to the Universal Exhibition in 1888, the Homentage de Picasso – an odd glass cube in a pond with arcane objects decaying inside, and the Monument in Colors.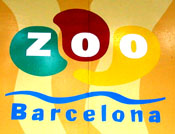 The Catalunyans are so proud of their heritage, that often the average man will profess to you in casual conversation, that Catalan is definitely NOT a dialect of Spanish, and thus these great palaces of art here in Old Town Barcelona are proudly known as Catalunyan Museums of Art.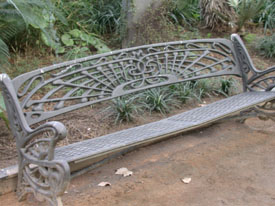 In 1878, the so-called "enlightened" dictator General Prim destroyed the Citadel, and a statue was erected to him on the spot. Now a public garden and exhibition space, the buildings that inhabit the grounds and area are palaces of typical Spanish architecture, filled with art. In 1888 the park was used for the Universal Exhibition which is when many of the beautiful buildings were constructed. The gardens and fountain were designed way back when with the help of the then-young artist Antoni Gaudí.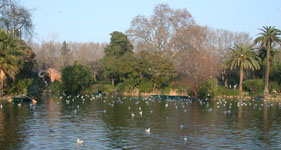 The centerpiece of the park however is the large lake with rowboats for rent. Popular even in January, the lake is a refuge from the city's heat in the middle of August – with trees around its shore offering cool shady spots.