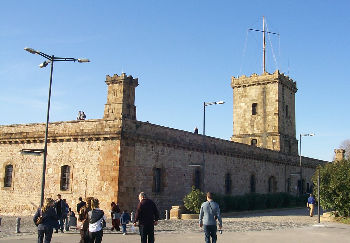 Castell de Montjuïc on the top of the hill
This large park and exhibition area lies at the foot of Barcelona occupying a big hill overlooking the harbor and city. On top of the hill is an old fort, Castell de Montjuïc, which contains a military museum, a good outdoor self-service cafe, lots of guns still facing out to sea, and some of the best views in the whole city.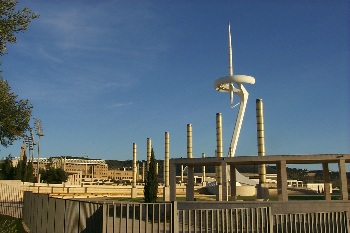 Barcelona's Olympic Stadium & Telefonica Needle
Further down the city side of Montjuïc are various museums including the Miro Foundation, the Palau Nacional (National Palace, now the Museum of Catalan Art), the art deco Olympic Stadium (designed in 1929, used during the 1992 Olympics), and many other smaller parks and gardens. I recommend taking the bus as far as the Castell, and walking down, unless you want to splurge on the Funicular.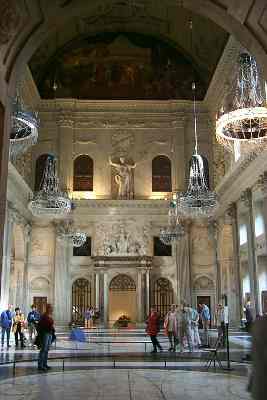 Palau Nacional reflected in Font Mágica
The Fonts Luminoses (Illuminated Fountains) are a beautiful sight on weekend evenings. They start at Plaza Espana and include the huge Font Mágica (Magic Fountain) at the foot of the Palau Nacional.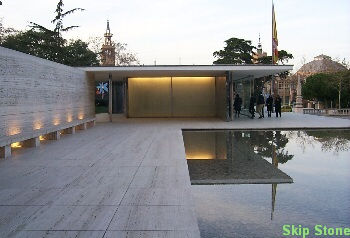 Barcelona Pavillion from 1929 World's Fair
Nearby is the Pavelló Barcelona or Barcelona Pavillion a reconstruction of the German Pavillion from the 1929 World's Fair designed by Mies van der Rohe. Huge slabs of marble and other stones, clean lines, water features and glass made this one structure very influential in modern architecture ever since. The Barcelona chairs also designed by van der Rohe are also on display.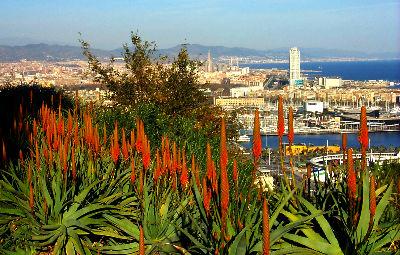 View of Barcelona's coastline from Mirador de L'Alcalde
Mirador de L'Alcalde is a lovely park overlooking Barcelona harbor. It has several nice features including water cascades and some lovely tile mosaics. Along the road you might also see the Sardana statue, carved by Josep Cañas in 1966, commemorating a traditional Catalan dance.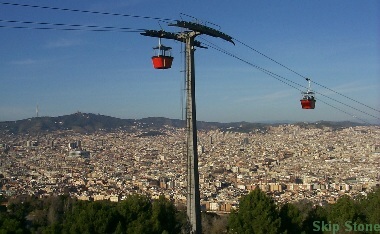 Cable cars are a fun way to get there!
Getting There
Metro: To Plaza d'Espana where you can either walkup, take escalators part of the way, or a get a bus. Or Paral-lel Metro station which connects to the Funicular
Buses: PM (Parc de Montjuïc) goes most of the way to the top. 50 & 61 go as far as the Fundacio Joan Miro and the Funicular.
Teleféric (Funicular/cable car). Starting down at Paral-lel there are several ways to get to the top of Montjuïc involving funiculars and cable cars. The cable cars have more limited hours, so check before you go for closing times.