Antoni Gaudí designed this park around 1900, as a residential area surrounded by nature. Gaudí lived here while he worked on his many projects in Barcelona. Famed around the world, Park Güell incorporates Gaudí's flamboyant style into a well-planned, well-used public space. Lush gardens, winding paths, fanciful buildings, open spaces, mosaic patterns, angular columns, colorful fountains all compete for your attention. The park is a photographer's delight with so many vantage points, each yielding splendid views of the park's attractions, and the city itself.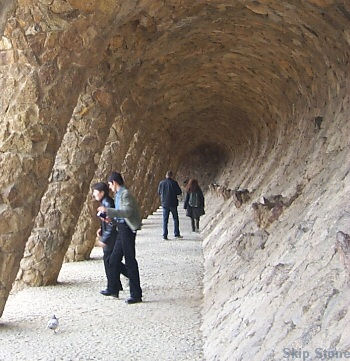 One of many unusual features in Parc Güell
The Casa Museu de Gaudí is the house where Gaudí lived while working on his many projects he did not design it, however. It's been turned into a museum, and can be visited most days. Hand-carved ornate woodwork, purple marble, and Gaudí's own furniture are highlights of this museum. Surprisingly, Gaudí's own bedroom, with a small single bed, and austere furnishings are a sharp contrast to his public works. Perhaps the man did most of his dreaming elsewhere…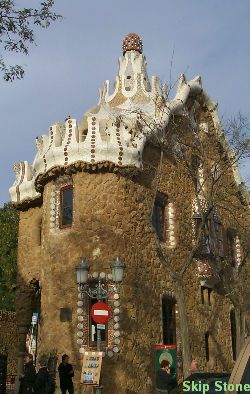 The main entrance to the park has a huge set of gates with two beautiful pavilions on either side. There's also a set of escalators leading up to the park from the left side of the park. Otherwise it's a leisurely climb thru the park's ever changing marvels.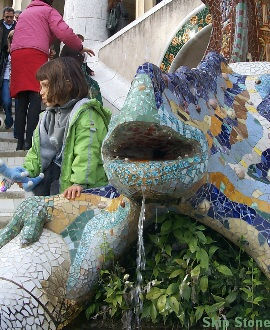 A very popular attraction is the lizard fountain at the entrance. Kids love to play around it and parents and tourists are eager to take photos. Just above the entrance steps are a series of 86 Romanesque columns that were meant to be a market. When I was there a musician was playing classical Spanish guitar (Segovia) among them. The playing and the acoustics were perfect!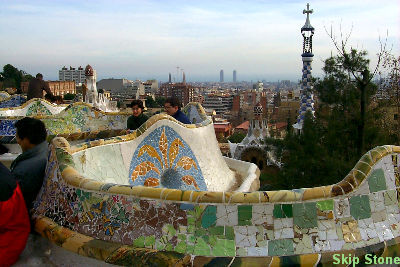 The U shaped space above the columns, the Gran Plaça Circular, provides a lovely panorama of Barcelona. The undulating 152 meter bench along the edge is said to be the longest in the world. It's inlaid with brilliant mosaic patterns and makes a great place to rest your weary feet and absorb the views.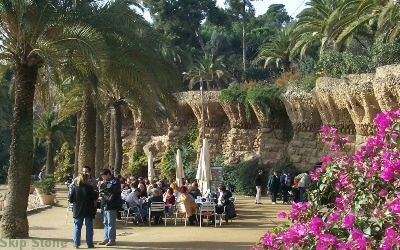 There's a self-service café for sandwiches and drinks overlooking the main plaza, surrounded by palm trees. A bookstore with books about Gaudí, postcards, maps and Barcelona guides is located in one of the two buildings at the front gate. Admission to the park is free! Don't miss this, as it's one of the most unique features of Barcelona.
Address: Parc Güell – Carretera del Carmel, 08024 Barcelona
Tel: 93 210 3811
Fax: 93 284 6446
Metro: Valcarca
Bus: 116, 24, 25
Bring a map!