San Diego
Everyone thinks California is hip, right? Well some folks just think all the nuts roll down hill to California. But there is a lot that's hip about Southern California, once you escape the urban sprawl of Los Angeles. One way or another this is a fascinating place, and San Diego is becoming more hip as we travel through the 21st century, located as it is at one of the four corners of the continental USA.
What's really hip is the weather, with a climate that is envied by the rest of the states, more than 70 miles of beaches, and some first-class family attractions that make this a favorite vacation spot for Americans and foreign tourists alike. Everyone is welcome here!
San Diego is California's second largest city and the United States' seventh largest, with a population of more than 2.8 million residents in the city of San Diego and the surrounding county. San Diego County is made up from 18 incorporated cities within its 4,200 sq. miles, such as Coronado, La Jolla, Del Mar, Carlsbad, Escondido, La Mesa, El Cajon and more.
The county of San Diego is large, and ranges from the mountains and desert of the East County, to the beaches along the glittering Pacific Ocean coast, with endless miles of housing communities, business parks, industrial parks and military bases and ports scattered everywhere in between.
Amid all of this sprawling development, San Diego has so much to offer the traveler. Here are a few of the major attractions:
Julian – East County historic mining town and vacation retreat.
Anza Borrego Desert State Park – 600,000 acres of desert with hiking, camping, wildlife.
North County – agricultural wonderland for flowers and food.
Beaches – 70 miles of coastline to explore with coastal villages along the way.
Scripps Institution of Oceanography – at La Jolla, also home to many other scientific research institutes, an aquarium, and the campus of UCSD with its striking modern architecture.
Balboa Park – largest urban cultural park in the U.S. featuring 15 museums, numerous art galleries, outstanding gardens, the Globe Theatre and world-famous San Diego Zoo.
Legoland – offers 50 rides, shows and attractions including miles of models made with the ubiquitous little plastic shapes.

SeaWorld – touch and feed the dolphins, visit Shamu the killer whale, and more! Fireworks every evening during the summer.

Coronado – another beachside community with a famous hotel. Mexican border towns – ranging from Tijuana to Rosarito, Ensenada, and my personal favorite – Tecate.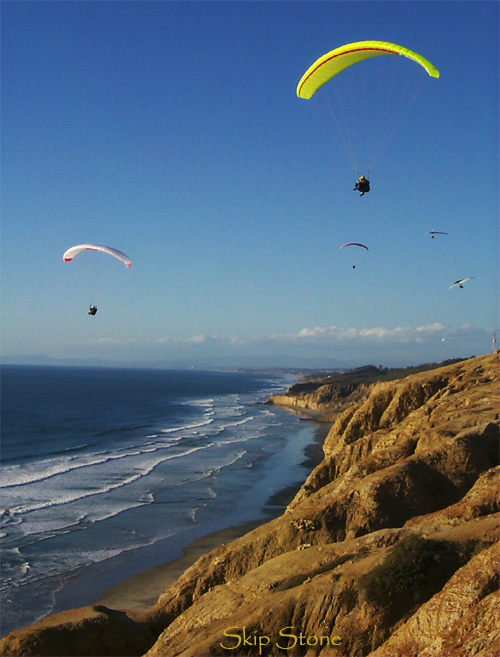 Parasailing and Hang Gliding at Torrey Pines State Park
Torrey Pines
– Just north of La Jolla, is Torrey Pines State Park with one of Southern California's most beautiful beaches.  It's also the jumping off place for hang gliders. 
Torrey Pines Gliderport
is one of the most perfect places for hang gliding and parasailing.  Just below the Gliderport is the famous Black's Beach, one of the few nude bathing sites in Southern California.
Of course there is more:
6,400 eating establishments.
92 golf courses.
Beachfront resorts and luxury spas.
Gaming.
Annual special events and unique holiday offerings.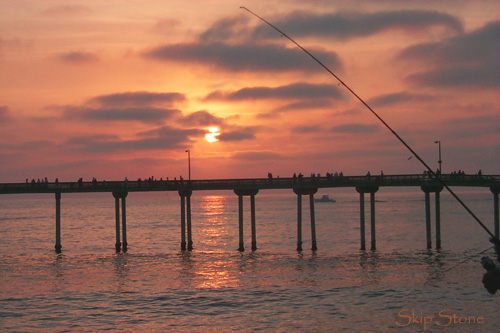 Sunset at Ocean Beach, San Diego
Ocean Beach – So there is a lot to do here, and a feeling about the place that one should experience…especially the free sprits of Ocean Beach, where the hippest community members can be found. Don't miss the Wednesday Market in OB (as Ocean Beach is fondly called by it's residents), as the best organic produce and foods can be found here, along with street musicians, drum circles, rides for the kids and fun for all. It's been happening every Wednesday afternoon for over a century, what a tradition!
Please follow and like us: