Dutch Cheese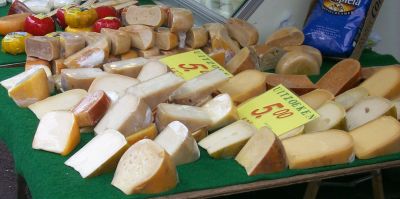 The dutch have a great fondness for cheese and milk products. Perhaps this is due to the fact that Holland is the world's largest exporter of dairy products! Every shopping street in Amsterdam has one or more cheese shops where you can sample the wares of this industry. Huge wheels of Gouda line shelves in the store. Pieces large and small are cut on demand, and free tastes are always given (how unusual for the Dutch to give something away!). Other dairy products like fresh yogurt and quark (sour cream) are excellent.
Most of these shops also sell breads and make sandwiches for lunch. Some of the more popular cheeses are Boerenkaas (farmer's cheese) which is classified according to it's age, young, medium, ripe (belegen), extra ripe (aged). Variations include herbs or cumin seeds scattered in the cheese. We really enjoyed the Geitenkaas (goat cheese), which is white and flavorful. Aged cheese like Oude Amsterdam (black wheel) is exceptional! Cheese is usually consumed with bread in sandwiches (broodjes), or with the light crispy Dutch crackers. Like most European countries, the Dutch are very proud of their cheese industry, and no visit would be complete without a visit to a cheese store to sample the wares.
There are picturesque cheese markets in Alkmaar and Purmerend for the tourists and some towns like Gouda still have a real cheese market. Alkmaar also has a Cheese museum.