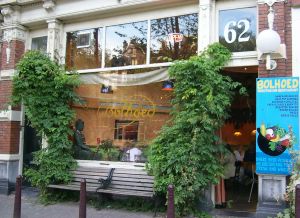 It's often quite a challenge to find some place to eat where vegetarians can have a good selection, where organic ingredients are the norm and where the food is imaginative and well prepared. The Bolhoed is just such a find.
Once a hat store, the Bolhoed (Bowler Hat) restaurant now purveys a delectible assortment of vegetarian food. I tried the vegan special which included a very tasty pumpkin soup served with thick slices of fresh whole grain bread. The main course consisted of a variety of vegetable dishes including cauliflower with sweet potato in a mustard dressing (good tangy flavor, yet slightly sweet), eggplant and olives in tomato sauce (ok), Spinach with Tofu (yummy!), brown rice and a small salad (both very good).
With any of their specials you also get dessert, and I had a piece of chocolate cream pie that was scrumptious! There's a beautiful selection of sweets in a display case inside, with more goodies like brownies and apple tart, all made without white sugar (honey being used instead).
All ingredients are organic including the very good red wine we had with our meal. My friend had pretty much the same except for a banana cream pie. I had a coffee substitute which was served cappucino style with foamed milk. It was very good. My friend had mu tea which he said was excellent. The bill came to 145 guilders for three including the wine. Not bad considering we pretty much ordered the most expensive items on the menu.
The restaurant is very gezellig (cozy) with warm colors, plants, even a buddha sitting in a corner. There are four outside tables, and ours had a mind of its own, moving around like a planchette on a ouija board.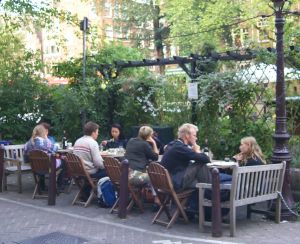 Outside seating along the Princengracht
Having been an avid vegetarian and a vegan for many years, I can appreciate when this kind of food is done right. And at the Bolhoed, it's done very well with everything one would expect from a vegetarian restaurant, and then some. I could find no flaw in anything that was served to us. The Buddha would love this place. I know I do!
This place gets busy so it's a good idea to call for a reservation.
Princengracht 60-62
Amsterdam
Phone: 020-626-1803