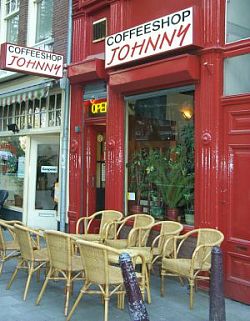 I usually stop by Johnny's whenever I visit the Jordaan to rest my legs and my mind. The outside wicker chair seating is comfortable and enticing on warm days. The staff is very friendly. Inside it's a bit cramped, yet cozy. The music is usually good, never at odds with the mood of the place.
Located right on the small Johnny Jordaanplein, it's a rather pleasant location.
The shop seems popular with the locals, as they can be seen popping in on their way home after work to pick up a little "pick-me-up". I gather they also do a decent morning business as they have early hours for a coffeeshop.
I once had an extraordinary experience here. I met god. Or so he claimed. He looked more like a genetic cross between Aqualung and Charles Manson. We had a very intense conversation, and he got too excited, and started screaming. The staff had to ask him to leave, and a few minutes later we heard him over in the urinoir on the corner yelling at the top of his lungs "fuck god" over and over…
Fortunately, that god isn't a regular at this otherwise pleasant coffeeshop.