Siberie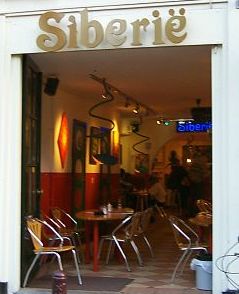 Located on the banks of a quiet canal, shaded by big leafy trees in summer, the Siberie is a great place to visit during your exploration of the Jordaan. Attractively decorated with comfy chairs and delightful artworks on the wall, the Siberie exudes a little class, unlike most coffeeshops in Amsterdam.
We enjoyed our visit there, to get out of a downpour one afternoon while poking around town. I was pleasantly surprised by the service, selection and coziness of the place. With huge double doors opening onto the sidewalk, the air inside is fresh and the music relaxing.
The dealer recommended some Siberian Tiger grass, which turned out to be a great suggestion. The grass was very aromatic, and dry enough to roll a pure joint, American style. I proceeded to get wasted and enjoyed the wait until the rain stopped, and then I was back on my way around town. In a very pleasant mood indeed.
I recommend the Siberie as a wonderful place for a quick visit – grab a drink and a smoke, relax to some nice music, perhaps make a new friend or two and have fun.
Info:
Address:
Brouwersgracht 11
Amsterdam