The 15th Annual High Times Cannabis Cup
Amsterdam, November, 2002.
Review by Skip Stone
Last year's Cannabis Cup was held under the shadow of 9/11. Numbed by the events of the prior 2 months, the 2001 Cup seemed muted. It felt odd to be so concerned about Cannabis when the future appeared so uncertain and fraught with danger. Yet it was an important affirmation of free speech during a time when our liberties were being sacrificed out of irrational fear.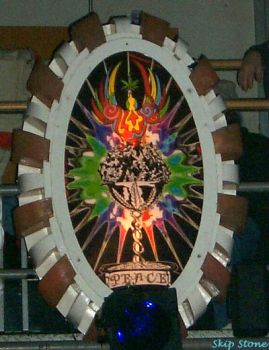 The Peace Cup
The vibe for this year's Cup was far more upbeat. Carrying on the tradition of the counter-culture, High Times & 420 Tours designated this year's event the Peace Cup. In a time when our government is insistent upon dragging the world into yet another senseless war, it takes courage and conviction to speak out for peace. One of the great benefits of Cannabis is that it presents users with an alternative perspective, a more peaceful, serene outlook, that many could use these days.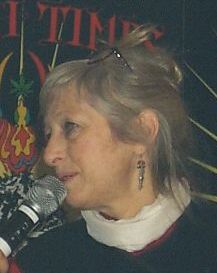 Michka
The contingent of activists present at the Cup this year included: French author and activist, Michka, Seattle activist Vivian McPeak and Shawn Heller, a prominent student activist and organizer. Nicole Devaney, a model and certainly one of the eye catching "attractions" at the cup, was one of many celebrities who got to give out free pot samples.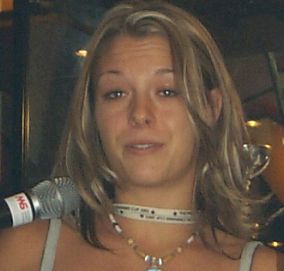 Cover Girl, Nicole
We were reminded by many speakers that the struggle for freedom to use marijuana is still ongoing, despite signs that more governments are considering decriminalizing Cannabis, especially for medical use. Medical marijuana users are still harassed and imprisoned in many countries. There's much work to be done to raise awareness and organize the political process so that our favorite weed can be free of legal restrictions.
Inducted into the High Times Hall of Fame this year were Bob Dylan and Joan Baez. Neither could make it (imagine if they both had!). But Joan's cousin, Peter, was on hand to accept the honor. Peter Baez is also a medical marijuana activist.

Yummy Treats!
During the cup, most of the Pax Party house is devoted to a trade show for Cannabis related products. Cannabis takes many forms, and eating it can be especially pleasurable when it's mixed with chocolate. Enter Tainted Treats and their scrumptious "candy" bars with names like Mr. Goodbud and Reefer Cups. Many people got to try these and all reported a fine, "uplifting" experience. The other hot product this year was vaporizers, with two vaporizer companies winning cups for best product.
As usual, hundreds of judges got to sample and vote on the best marijuana and hashish available in Amsterdam. In recent years all the pot candidates have come from the Netherlands or elsewhere in Europe. Thanks to the ongoing proliferation of seed companies and genetic crossbreeding, there are more than enough local varieties to make the judging interesting.

Cannabis leaf stockings. Great to hang on your fireplace for Xmas. Hopefully Santa will get the right idea!
Developments within the past year have seen more potent strains of Cannabis come to market. This ass-kicking super dope is very impressive. As of yet, I'm unable to determine just what it is that's enabled breeders and growers to produce such fine smoke, but I'm convinced it's a variety of factors including more attention to curing. Rushing wet pot to market has always been the bane of those Americans who like to smoke their pot straight (without tobacco), and it seems more Dutch connoisseurs are smoking pure joints now.
Yet the award that seemed to garner the most attention this year was the hard fought battle for the Hash Cup. Ice-O-later, Pollinator and Jelly are some of the new styles of hashish on the market that pack an incredible wallop with every toke. The Dutch are to be commended for pioneering better ways to extract and purify Cannabis resin. Being such a major fan I couldn't resist trying a variety of hash at the Cup. I definitely admire the super potent shit, and love the fact that it's so pure with THC levels around 50%.
This year there was a big reaction to the award for hash from some of those who lost. It seems the winner, The Old Church's Moroccan Cream, which I too felt was the best, is not considered by some people to be in the same class as these new breeds of hashish coming out of Holland. But how does one judge these hashes? How do you compare a fine, tasty Moroccan with killer Jelly? Is it even fair to make such comparisons?
One of the problems of this Cup (and all Cups) was having to try so many potent hashes together in a relatively short period. It made it difficult to discern the qualitative differences, especially when after a couple of tokes you don't want or need to smoke anymore! It passes a point where the hash is so pure, and the flavor so clean that only a minor degree of potency remains to set them apart. In that scenario, where tastewise, there is little difference, a hash with lots of flavor and a memorable taste, could easily win, and did. Otherwise by what standard (other than potency) can you judge? In my opinion, there's no way potency should be the final criteria on hashish, anyway.
I propose a solution. Why not have another Cup? I think there should be a separate cup for imported hashish. Domestic hashish is a completely different vegetable. Imported hashish is usually organic, although it's likely it'll have contaminants (dust, camel shit, hand sweat) or adulterants (honey, oils, opium, coloring). So why judge something made using a long-standing traditional process against the high tech growing and processing now being done? I hope the organizers will consider this suggestion.
I have more suggestions. I'd like to see growers pay a lot more attention to ALL the qualities of the Cannabis plant during the process of growing, curing and THC extraction. I'm sorry but it's NOT just about yield and potency. Sure those are important from a commercial standpoint. But I'd wish you'd guys would stop thinking only in terms of profits. Quality means a lot of things. Enough with the egos! Pay more attention to what consumers want.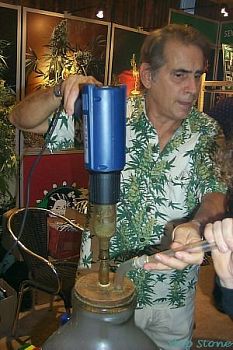 Eagle Bill's still giving away free tokes at the Sensi Seed booth.
I think there should also be a cup for the best organic product. The second most common complaint I hear is that people can't find organic pot in Holland. In my opinion there's no excuse to grow any other way. That's just one issue that needs more attention.
The BIGGEST complaint I'm hearing now is that the grass being sold in Amsterdam is too weak! That hard-earned Dutch reputation of selling the best pot in the world, is suddenly at risk. Why? Because growers and coffeeshop personnel are shaking buds and then selling them. To me, this all too common process is contemptible. They are PURPOSELY selling an inferior product just to increase their profits. Where do you think all these super potent hashes come from? From what is now, IMPOTENT grass. It used to be only the trimmings were processed into hash, but now most buds seem to get the shake treatment. You want to win the award? Then grow and sell ONLY the best. Please read my three-part expose about Coffeeshop Rip-offsfor more on this subject!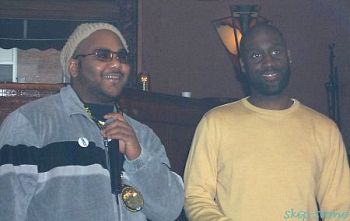 De La Soul, just one of the bands that performed at the Melkweg during the Cup.
This year I'm gonna give out my OWN virtual awards!
The "We Got This Right" award goes to: Mike Esterson and 420 Tours for all they've done to keep the Cup alive and smoothly managing a very successful turnout! This seemed to be the most mellow Cup I can remember, and I think the organizers set the tone. I didn't hear or consider any complaints this year. Everyone who mentioned it had positive things to say. In fact the 420 Team even found my lost mobile phone!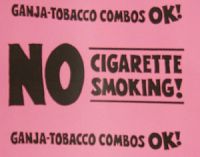 Sign at the Pax Party House
And I also want to thank them for posting signs with the new cigarette policy and everyone for NOT SMOKING cigarettes in the Pax Party House. I was able to breathe easy for the first time this year! I've always had to curtail my attendance (only 2 days last year, 4 this year) due to excessive noxious tobacco smoke. I despise the fact that after I've been to the Cup or any coffeeshop for that matter, everything I wear reeks of cigarette smoke. No doubt they finally took into consideration all those people with medical conditions and non-cig smokers who also had to breathe several packs worth of cigarette smoke at the show in years past.
The "Dedication to Creativity Award" goes to Steve Hagar for creating some great videos about the Cup. Steve was also awarded the Founder's Cup this year. After all he did create the Cannabis Cup in the first place. Guess he's got another talent too, his new book "Adventures in the Counter Culture," about his life and his work with High Times, was released at the Cup.
I'm glad to see HT doing more book publishing. I think they should support more freethinking writers and help publish their works. Don't forget to send me a review copy Steve! You too, Nol. Nol Van Schaik released his new book, "The Dutch Experience" about the history of Dutch Coffeeshops at the Cup. I'd love to review that, too!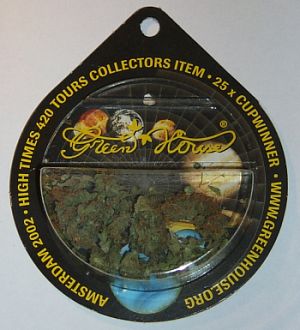 Clever Packaging!
The "Clever Packaging" award goes to the Greenhouse for all those cool Super Kalimist samples they gave out in the circular, reclosable storage containers. A smart way to sell and store pot and a nice collectors item. I hope to see them in my local Albert Hein soon.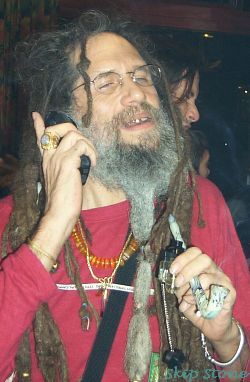 Soma's dilemma. Answer the phone or take a hit…
As if he didn't win enough awards, The "Extra Care Award" goes to Soma for growing only organic pot and seeds. Too bad, he doesn't get the "Good Sport Award!" That goes to Michka for not getting mad at me for spilling Tomato Soup on her shoe.
The "Special Service Award" goes to the Celebrity Judge who shared his samples with me! 😉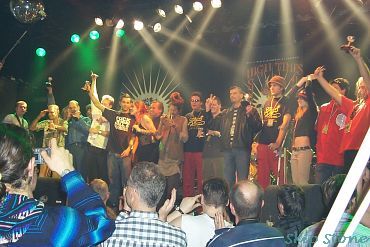 Winners take to the stage at the conclusion of the Cup.
There's so much to do and see at the Cup each year, it's a challenge to keep up the pace (especially the smoking pace!). So the "Sorry I Missed It" Award goes to The Party at Boom Chicago. I heard that one was great, with an excellent Janis Joplin impersonator, but I was in no state to attend…heh heh…
How often do you get to smoke your brains out for a week with two thousand other stoners? And listen and dance to great (and not so great!) music and comedy. Yeah, I confess: I thought I was done with these events, but it truly is a special scene, unlike any other. May there be many more, perhaps someday in the USA!
To see the list of winners of this year's Cannabis Cup and more info about it, visit the High Times Website.