The Dam Square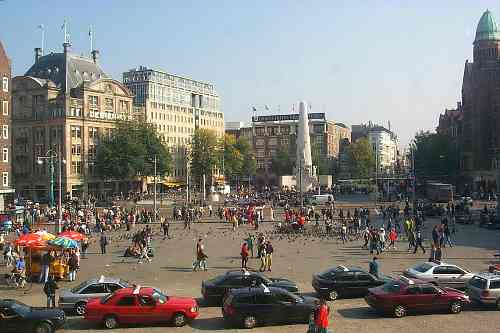 The recently restored Dam square (above) is where the Amstel dam was located, which gave Amsterdam it's name. The square is used for official events, festivals, concerts, and an occasional market. The Royal Palace, the Niewe Kerk, Madame Tussaud's Wax Museum, the Grand Hotel Krasnapolsky, De Bijenkorf – a department store, all face the square. In the center of the Dam is a monument to Holland's WWII dead. It's a good place to get your bearings or hang out for a bit and watch the city go by.
There's much to explore in this area and the many streets leading away from the Dam can take you to every part of town. So pick and street and go for it. The shopping is good on the Rokin or the Kalverstraat, but more hip down the Damstraat with loads of headshops, coffeeshops and trippy, hippie stores.
The street to the left of the Hotel Krasnapolsky leads into the Red Light District. A wander around the Nieuwe Kerk along curving alleyways will lead to some nice restaurants, bars and more coffeeshops. The Damrak takes you past travel agencies, restaurants, money changers, department stores and much more on the way to Centraal Station where you can get transportation to anywhere in Europe.